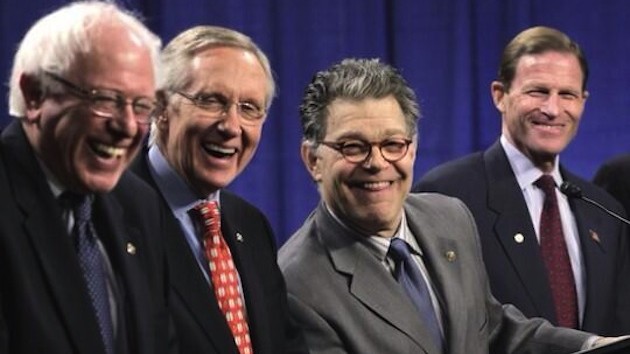 Wednesday night the House of Representatives took a strong step toward restoring accountability and public faith in the VA. The overwhelming passage (390-33) of the VA Management Accountability Act (H.R. 4031) has drawn a stark contrast between the Republican-controlled House and the Democrat-controlled Senate. The legislation would have granted Veterans Affairs Secretary Eric Shinseki the power to hold corrupt administrators accountable.
Thursday, Democrat senators led by Majority Leader Harry Reid (D-NV) organized to kill the House bill, choosing self-described Democrat-socialist Bernie Sanders of Vermont, the chair of the Senate Veterans Affairs Committee, to carry out the objecting vote during a motion for unanimous consent. The move allowed 160 House Democrats to vote for the House bill in a symbolic fashion only, providing political cover for members who knew the bill would never make it for a vote in the Senate.
Florida Republican lawmakers are leading the way on efforts to hold those who kept secret waiting lists and falsified records accountable, and are outraged over the new lows Democrats have gone to protect big government. Rep. Jeff Miller of Florida, the chair of the House Veterans Affairs Committee, introduced H.R. 4031 and Florida Senator Marco Rubio introduced companion legislation, the VA Management Accountability Act (S. 2013), which Democrats killed Thursday.
Ironically, Bernie Sanders has expressed interest in running for president in 2016, but Democrats will have to contend with the impact the VA scandal has had on the 2014 midterm elections first. Embattled Democrats are desperately seeking to distance themselves from the president, but "too little too late" says Rep. Miller regarding the party's response to the VA scandal. In fact, President Obama is taking flack from both the sincere right and pretentious left.
"If these allegations prove to be true," Obama said, "it is dishonorable, it is disgraceful and I will not tolerate it – period." But the allegations are, in fact, true. Even Democrats aren't disputing them, they are simply more concerned about protecting the power of the public labor unions and "sanctity of civil service" than they are about dying veterans, Senator Marco Rubio said.
"They organized to kill the bill," he added Thursday.
Whether the American people will demand the Senate take the vote, rather than hold hearing and hearing on the proposed bill, as Senator Sanders suggested, remains to be seen. Meanwhile, veterans desperately in need of care — as of now — will have to wait until the holiday weekend is over for Democrats to return to work. In a shameful instance of irony, Democrats will enjoy their time off at the expense of a holiday designated to honor those veterans who served and sacrificed so that our individual freedom and system of government, in which Democrats serve, may survive.