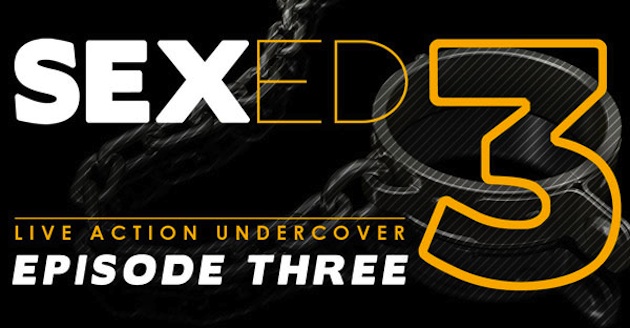 A series of undercover videos are beginning to paint a picture of Planned Parenthood giving widespread encouragement to underage girls to engage in inappropriate sex acts.
The latest video, "SEXED: Dangerous Sex Advice for Kids (Episode 3)," is part of Live Action's nationwide campaign to spread awareness of Planned Parenthood's track record. The U.S. taxpayer gives more than $500 million annually to Planned Parenthood, including "sex education" and abortion funding through ObamaCare.
Some girls like being "spanked," "hit," or "whipped," said the counselor. Other instructions ranged from encouraging the minor to read "Kama Sutra" books to watching "educational pornos" online.
Last week Live Action released SEXED Episode 2, which caught Planned Parenthood staffers in Colorado giving advice on "choking," "whipping," and "tying up" sexual partners to young, underage girls. Now, in Portland, Oregon, a Planned Parenthood employee at the Clackamas Center told a 15-year-old girl how to best "enjoy" sex and explore "different types of fetishes."
"There is no way anyone can justify a counselor telling a 15-year-old girl that 'some people like being spanked, or whipped, or hit,'" said Live Action president, Lila Rose. "This is not the stuff of sex education, but rather a disturbing ideology consciously being pushed on our nation's youth."
Meanwhile, Columbia Willamette, a Planned Parenthood affiliate that runs the facility in Live Action's latest video, was shockingly tapped by the Department of Health and Human Services to receive PREP grant funding.
"Oregon is a liberal state," Rose said. "There's no doubt about that. But political ideology shouldn't affect parents' desire to protect their children. Whether you're liberal or conservative, or even pro-life or pro-abortion, tax-funded 'counseling' sessions directing kids to porn sites and sex shops, and teaching them how to beat and choke each other, are completely unacceptable."