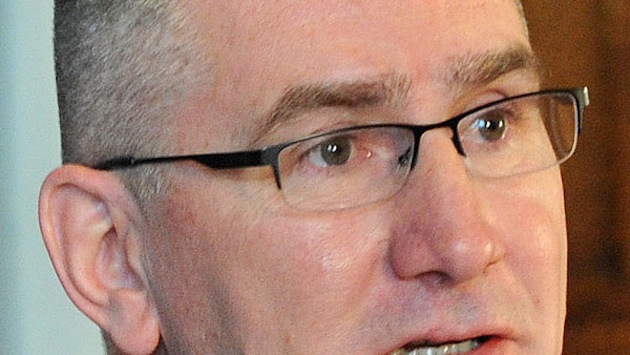 Democrat John Walsh of Montana, 53, was appointed by Gov. Steve Bullock in February to serve out the remainder of retiring Sen. Max Baucus' term, which Democrats hoped would boost their chances of keeping the Red state's Senate seat. He is a decorated veteran of the Iraq war, a former adjutant general of his state's National Guard and, now, a plagiarist.
"An examination of the final paper required for Mr. Walsh's master's degree from the United States Army War College indicates the senator appropriated at least a quarter of his thesis on American Middle East policy from other authors' works, with no attribution," The New York Times reported.
The "strategic research paper," which is what the Army War College calls the thesis required to earn a Master's Degree, was passed off as his own when it was completed in 2007 and includes other academic papers, policy journal entries and well-known books. Walsh's 14-page paper, titled "The Case for Democracy as a Long Term National Strategy," argues for the basic tenets found in the democratic peace theory, except he plagiarized the work of other scholars at the Belfer Center for Science and International Affairs, a research institute at Harvard, as well as from a Carnegie Endowment for International Peace document.
"Mr. Walsh copies an entire page nearly word-for-word from a Harvard paper, and each of his six conclusions is copied from a document from the Carnegie Endowment for International Peace without attribution," The New York Times wrote above a startling interactive slideshow of the paper demonstrating the dishonesty.
When approached Tuesday outside his office on Capitol Hill Walsh first took the position that he didn't do anything wrong.
"I don't believe I did, no," Walsh said.
By Wednesday, the campaign was in full damage control mode, as expected. However, the apparent political strategy has been nothing short of disgraceful.
A campaign aide didn't even bother to argue whether Walsh was guilty of plagiarism, but instead advised The Times "that it be viewed in the context of the senator's long career." She went on to do exactly what members of the military are known for not doing — make excuses. She suggested the plagiarism should somehow be less outrageous because Walsh "was going through a difficult period at the time he wrote the paper," and then scapegoated a tragic suicide by one of the members of his unit from Iraq. The soldier committed suicide in 2007 just weeks before it was due.
Walsh's master's degree in strategic studies from the War College has directly contributed to the position of power he now holds. After Walsh was appointed adjutant general of Montana's National Guard, a military evaluation said his selection for the position was "bolstered" by his degree from the War College, an institution that boasts the attendance of American heroes Dwight D. Eisenhower, George Patton and Norman Schwarzkopf. From that position, Walsh launched his successful bid for lieutenant governor, painting himself as a moderate, otherwise extinct pro-military Democrat.
This isn't the first time Walsh's integrity has been called into question. He ran in to a problem when a Montana TV station KXLH reported that Walsh was cited in a 2010 inspector general report for improperly using his position in the Guard for personal gain. While seeking a leadership position in the National Guard Association of the United States, Walsh was reprimanded for using his power as adjutant general to urge other guardsmen to join a private advocacy group.
"Plagiarism is a serious form of cheating that carries serious consequences," the NYT noted is written in the War College handbook. In this case, the consequences are most assuredly his seat in the U.S. Senate. PPD's 2014 Senate Map Predictions model previously rated the Montana Senate race "Likely Republican." Even though historical election data show there is zero evidence to support the Democratic claim that appointed incumbency would give Walsh the edge, we viewed him a formidable candidate, albeit in a race he badly trailed Republican challenger Rep. Steve Daines in the polls and fundraising.
However,  we see this clear case of plagiarism as a campaign-ender. "Update: The War College provost told me they will start investigation into Sen Walsh's paper tonight," Jonathan Martin, who authored the piece at The New York Times, recently tweeted. That won't make for a great campaign slogan, so we are now moving this race to "Safe Republican" alongside West Virginia and South Dakota, two other states the GOP is a safe bet to flip in November.
| Poll | Date | Sample | MoE | Daines (R) | Walsh (D) | Spread |
| --- | --- | --- | --- | --- | --- | --- |
| PPD Average | 6/9 – 7/18 | — | — | 49.5 | 37.0 | Daines +12.5 |
| PPP (D) | 7/17 – 7/18 | 574 RV | 4.1 | 46 | 39 | Daines +7 |
| Rasmussen Reports | 6/9 – 6/10 | 750 LV | 4.0 | 53 | 35 | Daines +18 |
| CEA/Hickman Analytics (D) | 4/24 – 4/30 | 400 LV | 4.9 | 49 | 37 | Daines +12 |
| Rasmussen Reports | 3/17 – 3/18 | 750 LV | 4.0 | 51 | 37 | Daines +14 |
| PPP (D) | 11/15 – 11/17 | 952 RV | 3.2 | 52 | 35 | Daines +17 |