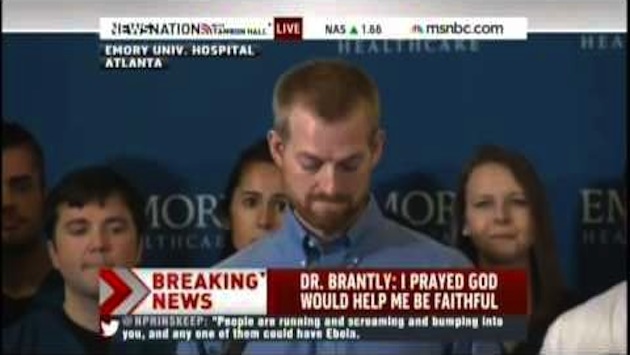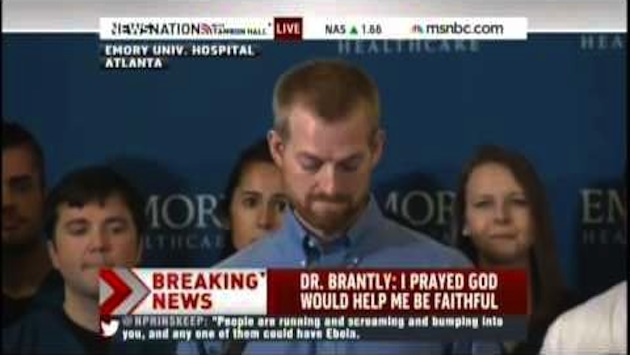 Dr. Kent Bradley, the 33-year-old Christian doctor and missionary from Texas, thanked God for sparing his life after being cured of the deadly Ebola virus earlier this week.
"God saved my life," he said at a press conference upon being released from Emory Hospital in Atlanta. "A direct answer to thousands and thousands of prayers."
Bradley received an experimental serum that witnesses say had a dramatic and almost immediate impact on his grave condition. However, he only received the serum, which was limited on availability, after he first passed on the dose opting instead to give it to another.
Outrageously, as posted by the Twitter aggregator site Twitchy, he was attacked immediately by secular progressives for his faith.
https://twitter.com/TheDudeBlog/statuses/502553522832146432
Disgraceful.
A doctor thanking god, of all people, for his recovery from Ebola makes me laugh #KentBrantly

— Maryam Farahmand (@msladymare) August 21, 2014
Then, there's this one.
https://twitter.com/WV_FreeThinker/statuses/502565754215358466
It goes on and gets worse, but you get the point. Albert Einstein, the renowned scientist, once explained why he believed vitriol comments on religion blindly spill from the mouths of secularists.
"You may call me an agnostic," Einstein said. "But I do not share the crusading spirit of the professional atheist whose fervor is mostly due to a painful act of liberation from the fetters of religious indoctrination received in youth."
Dr. Bradley, of course being a Christian, believes in the existing life and teachings of Jesus Christ, a figure many of these so-called "New Atheists" say is fabricated in large degree by the Gospels. However, Einstein, a man of science would again disagree.
"Unquestionably!," he said of whether Christ existed. "No one can read the Gospels without feeling the actual presence of Jesus. His personality pulsates in every word. No myth is filled with such life."
Einstein did not believe in a personal God, but a God outside of our relatively limited human understanding, he did.
According to the logic used by those above, would he be an ignorant man of science, too?