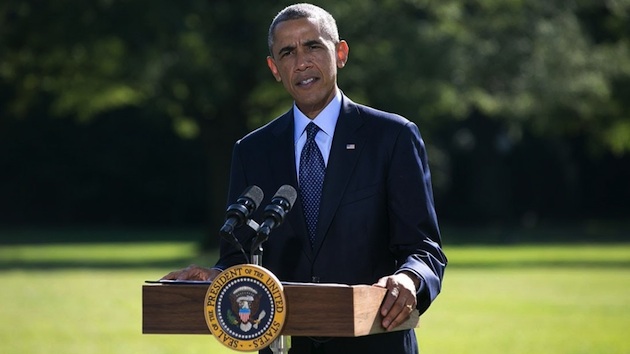 Speaking from the White House South Lawn Tuesday, President Obama said airstrikes on ISIS targets in Syria are part of the U.S. campaign to deliver the terror army a message: They will find no safe-haven.
A U.S.-led coalition consisting of five Arab nations began conducting airstrikes over Syria early Tuesday, hitting ISIS headquarters at Raqqa and other "hard targets" in the North. The airstrikes marked the first U.S. military intervention in Syria since the start of the civil war in 2011, and included hitting the Khorasan Group, whom the Pentagon described as a "seasoned group of al Qaeda operatives in Syria."
But, more notably, the coalition of Arab nations is a historic first, as the airstrikes were conducted by the U.S., Bahrain, Qatar (not confirmed), Saudi Arabia, Jordan and the United Arab Emirates.
The President made clear that the fight against these terrorists "is not America's fight alone," touting the fact airstrikes and supportive operations were conducted by the U.S., Bahrain, Qatar (no warplanes), Saudi Arabia, Jordan and the United Arab Emirates..
"The people and governments of the Middle East are rejecting ISIL, and standing up for the peace and security that the people of the world deserve," Obama said. "Not since the Gulf War has the United States been joined in direct military action by such a broad coalition of Arab partners."
The White House claims over 40 nations have offered to take part in Obama's plan to degrade and ultimately destroy ISIS, but critics have noted the absence of both Turkey — a NATO ally — and the United Kingdom.
While the president thanked Congress for what bipartisan support they have shown on the effort, he maintained he has the authority to conduct the operation without authorization from Congress.
"America is always stronger when we stand united. And that unity sends a powerful message to the world that we will do what is necessary to defend our country," Obama said. However, when the claim that the 2001 Authorization for the Use of Force didn't hold water, a grave threat from the never-before heard of Khorasan Group became the excuse for defending the U.S. against an imminent threat, a legitimate cause for executive use of force.
"Over the next several days, I will be meeting Prime Minister Abadi of Iraq and with friends and allies at the United Nations to continue building support for the coalition that is confronting this profound threat to peace security," Obama added. "This overall effort will take time. There are challenges ahead. But we're going to do what is necessary to take the fight to this terrorist group – for the security of our country, the region, and the entire world."