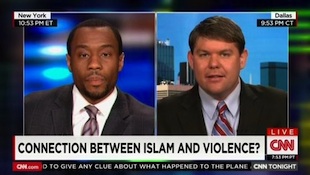 Leftist academic Marc Lamont Hill criticized Bill Maher and Sam Harris, calling the two noted liberal atheists racist for questioning the correlation between violence and Islam.
"When he [actor Sam Harris] says that Islam is the mother lode of bad ideas, that is horrific; it is offensive; and, as Ben [Affleck] said…quite frankly, it's racist." Hill claimed that "Islam is not uniquely violent or primarily violent or any more prone to violence than any other religion."
CNN Anchor Don Lemon recently explored the possibility that Islam was inherently violent. He noted that Maher and Harris were also "arguing about whether liberals have failed when discussing the treatment of women; the treatment of gays in the Muslim world." They asked, "have liberals failed?" on those topics.
Lamont responded by saying that "there are plenty of liberal bigots" out there, but insisted that the number of Muslims who sympathized with terrorists and extremist views were "infinitesimal" compared to 1 billion-plus Muslims in the world.
However, Lemon confronted Hill with the results of large Pew Research survey of Muslims from around the globe, a survey that PPD examined in response to comments made by comedian Dean Obeidallah, who back in October of 2013 called Sen. Rand Paul (R-KY) a racist for saying there was a war on Christianity in the Middle East.
"There is a Pew poll among Muslims about sharia law and what sharia law means," Lemon said. "It says that the percentage who favor the death penalty for converts – the majority of Malaysia, Afghanistan, Pakistan, Egypt, Jordan, Palestinian territory. Many other countries don't have a majority, but they still have a large number. And so, if you look at that, it may not be the majority of Muslims, but that's millions and millions of people. Is that a problem with religion in general, or just with Islam, Marc?"
With that Ivy League education Mr. Hill touts, Mr. Lemon expected him to have an intellectual response. But, instead, Hill made a fool of himself, rattling off talking points that painfully demonstrated what is either his shocking ability to be dishonest, or blatant ignorance to the practice of a religion in a specific region of the world that is inherently violent.