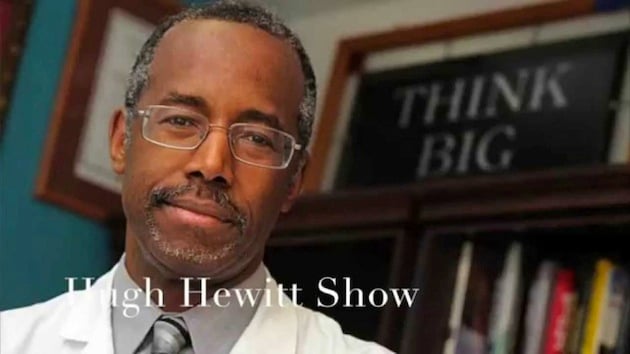 Dr. Ben Carson, the head of neurosurgery at John Hopkins University, said on the Hugh Hewitt Show that he would refuse to serve as surgeon general under Obama because he doesn't trust him. Carson, who appears to be gearing up for a 2016 presidential run, rose to notoriety after making public statements of opposition to ObamaCare standing no more than 10 feet from the president at the National Prayer Breakfast.
HUGH HEWITT, HOST: I am joined by Dr. Ben Carson. Dr. Carson, welcome back to the Hugh Hewitt Show.
DR. BEN CARSON: Thank you. Always good to be with you.
HEWITT: Dr. you're such a well-established and well-regarded national figure, the professor of neurosurgery, oncology, plastic surgery, the head of pediatric neurosurgery at Johns Hopkins University. You've won the Presidential Medal of Freedom. You did the National Prayer Breakfast. You wrote One Nation. If President Obama called you up right now and said Dr. Carson, we need a surgeon general who will command respect and will generate calm, would you please serve, would you accept that?
CARSON: No. No, because I would, if I were going to serve in that position, I would have to serve under someone that I trusted.
HEWITT: If he said I will not interfere with the guidance you give, we need someone to rally the country around being calm and appropriately prepared, you really, you'd say no to the president of the United States?
CARSON: Yes. Absolutely.
HEWITT: I'm shocked.
CARSON: (laughing) Well, you shouldn't be, because it doesn't, you know, I look at some of the other people, and I know them, you know, who are speaking on behalf of the administration. And I feel that they're being constrained in what they're saying.