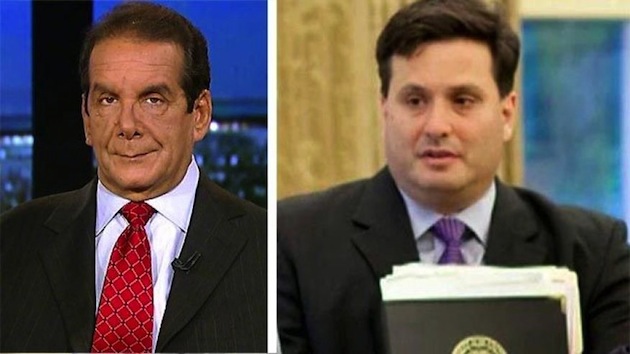 Critics are questioning the president's decision to appoint Ron Klain, a former advisor to Al Gore and Joe Biden with no medical background, as Ebola czar. Republicans are calling Klain a figurehead.
"This is what Obama specializes in," Charles Krauthammer said Friday night. "You have a VA scandal, an IRS scandal, Secret Service scandal. You fire the guy at the top so you have the appearance of motion."
"I don't think he's going to make any difference whatsoever," he added. "It's a PR move from beginning to end."
The Obama administration is expressing full confidence in Klain, who they say steps into the position with "strong management credentials, extensive federal government experience overseeing complex operations and good working relationships with leading members of Congress, as well as senior Obama administration officials, including the president."
But House Republicans aren't so sure. Rep. Tom Price (R-GA), a physician, said Obama was "making an unserious gesture at an incredibly serious moment."
Meanwhile, Republican Reps. Tim Murphy (R-CA), chairman of the Oversight and Investigations Subcommittee, and Fred Upton (R-MI), the House Energy and Commerce Committee chairman, have both called for immediate travel on individuals traveling from West African countries in order to halt the spread of the disease.
President Obama said this week during a press conference that he "didn't have a philosophical objections to a travel ban" if he thought it would be effective. But he continued with the narrative — which doesn't make a distinction between chartered flights and commercial flights — that halting travel from these nations would hinder the ability of the U.S. to confront and contain the epidemic.
Obama on Saturday repeated his argument against a travel ban on West Africa where Ebola is an epidemic and urged Americans not to give into hysteria about the deadly virus.
"We have to be guided by the science," Obama said in his weekly radio and online address. "We're a nation of more than 300 million people. To date, we've seen three cases."
The president's argument has come under heavy fire as public polling shows the vast majority of Americans feel the U.S. should implement such as ban. Chairman Murphy said this week that Obama administration officials told him they did not want to implement the travel ban because they didn't want to negatively impact the economies of West African countries, as well as stigmatize those from the region already in the United State.
Dr. Manny Alvarez, the Senior Managing Editor for Health News, said the argument is simply not a valid one. In an op-ed to the new Ebola czar, he addressed the issue of the travel ban.
"I would hope that you see that those of us who are calling for a travel ban have a legitimate argument," Alvarez wrote. "I understand the counter argument, but I think that the world is different today than it was 20 or 30 years ago. Borders are more porous, financial crises around the planet have disseminated communities and people in areas of the world are ravaged by war and terrorism, and humans are in desperate search for new homes."
Western European countries, including the United Kingdom and France, have implemented travel bans already, with the U.K. ban being in place for over a month. Still, some detractors of the ban have suggested it is impossible to implement, a suggestion Alvarez disputes.
"Therefore, the stricter control of West African borders is important," he added. "This is why neighboring countries have instituted tighter border controls for West African immigrants. This is why many countries around the world and now also here in the Americas, including some Caribbean islands and countries in South America have imposed a travel ban in West African migration. Is everybody wrong?"
Yet, Republicans say the Ebola czar appointment is telling of the administration's strategy, which according to them, is not one that includes a travel ban or serious action.
"This appointment is both shocking and frankly tone-deaf to what the American people are concerned about," Rep. Murphy said in a statement. "Installing yet another political appointee who has no medical background or infectious disease control experience will do little to reassure Americans who are increasingly losing confidence with the administration's Ebola strategy."
While it would appear that House Democrats are backing the president's Ebola strategy and his new appointment, a request for a comment was not answered by the minority leader. Leader Pelosi (D-CA) has been relatively silent on the issue, even as some House Democrats expressed concern the president did not respond to the crisis quickly enough.
Putting the politics to the side, medical professionals believe the travel ban is a good start.
"I think that the facts speak for themselves," Dr. Alvarez said.