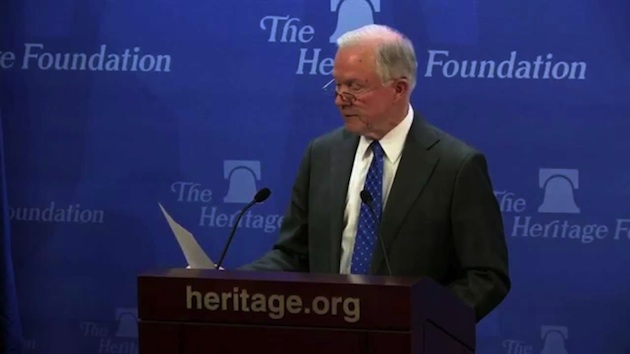 Sen. Jeff Sessions (R-AL), one of the most outspoken critics of the president's immigration policy, responded to Obama's executive action on immigration Friday. Speaking at an event hosted by The Heritage Foundation on Friday, Sen. Sessions pushed back on suggestions that Republicans in Congress will move to impeach Obama.
"No, we are not going to impeach or have a move to impeach," Sessions said. "The president has certain powers. We truly believe, and I think it's accurate to say he abused those powers."
What Sen. Sessions and other congressional Republicans have suggested is a tactic that has been used successfully by both Democrats and Republicans to prevent the president from closing the Guantanamo Bay prison camp, another move that is widely unpopular among the American people.
He also spoke to the tone struck by President Obama in his speech Thursday night, which suggested that the American people were angry at immigrants and, in general, held some ill-will toward them. Despite the president's assertions, polls show the American people are open to a so-called "pathway to citizenship," if and when the border is secured first, but staunchly oppose the president taking executive action on his own without Congress.
"I don't think the American people are mad at immigrants. They fully understand that immigrants would like to come to America, more than we can accept," he added. "They are mad at their government and their politicians. And that's what the anger is about because we refuse to do what the right thing is."