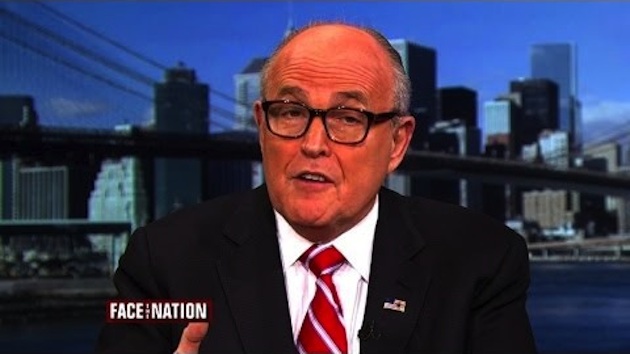 In an interview on CBS's Face the Nation this morning, Chief White House Correspondent Major Garrett sitting in for Bob Schieffer interviewed former NYC Mayor Rudy Giuliani.
"I've witnessed this man first hand," America's Mayor said. "He's spent his entire career helping to create riots, phony stories."
Garrett began the interview with former NYC Mayor Rudy Giuliani by saying, "Let's clear one thing up.  You said a while ago that President Obama contributed to a rhetorical atmosphere about hating American police and The Washington Post fact-checked you on that. I cover the president every single day. I've never detected anything that comes along the line of propaganda urging the country to hate police.  Do you want to recast that or take that back?"
Giuliani said, "Oh, not at all," Giuliani said. "I think you missed one very important point."
He went on to criticize President Obama for having a man such as Al Sharpton in the White House to play such a prominent role, considering his track record of profiteering off of racial tension he helped to create.
Giuliani also criticized current NYC Mayor Bill de Blasio for siding with the protestors over the New York City Police Department, who feel abandoned by their commander-in-chief.
An enormous crowd of police officers outside Christ Tabernacle Church in Queens, N.Y., Saturday where the funeral of NYPD Officer Rafael Ramos was being held turned their backs on the leftist mayor de Blasio. The mayor's eulogy was shown on large TV monitors outside the church mainly because of the blue sea of officers that came to pay their respects to Ramos, a 7-year veteran of the NYPD.
Police union heads have accused the mayor of fostering an anti-police climate that contributed to the killings of Officer Ramos and his partner, Wenjian Liu.