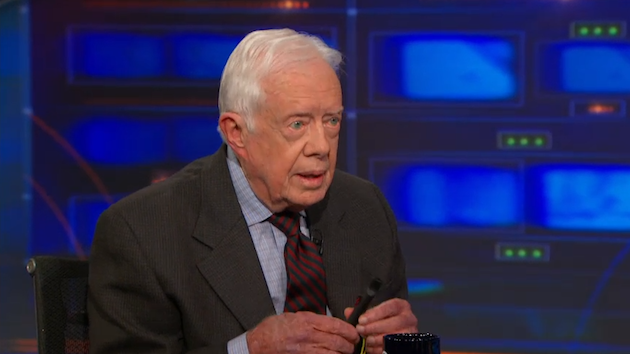 President Jimmy Carter blamed Israel for the Paris terror attacks this week in an interview with John Stewart on the Daily Show. The comments are just the latest in a series of controversial statements regarding Israel, Islamic terrorism and the West.
"Well, one of the origins for it is the Palestinian problem," the 39th President of the United States said. "And this aggravates people who are affiliated in any way with the Arab people who live in the West Bank and Gaza, what they are doing now — what's being done to them. So I think that's part of it."
Of course, the attack on the French satirical newspaper Charlie Hebdo had nothing to do with Israel. The pair of Islamic radical brothers believed they were avenging the honor of Islam and the Prophet Muhammed, who the newspaper repeatedly mocked (along with other religions) on their covers.
In fact, in their newest issue, the cover features a caricature of the Prophet Muhammad holding a sign that reads, "Je Suis Charlie" (I am Charlie), with the words "Tout Est Pardonne" (All Is Forgiven) above his head.
Carter, a winner of the Nobel Peace Prize for brokerage of a deal between Israel and Egypt, has a long history of apologizing or making excuses for radical Islam, though recently it seems to be a growing problem. Recently, he met with a leader from the terror group Hamas in Damascus, Syria, where he hides from Israeli justice. In photos, Carter is seen hugging and smiling with Khaled Meshal, a man who leads a group on the top of the State Department's list of terrorist organizations.