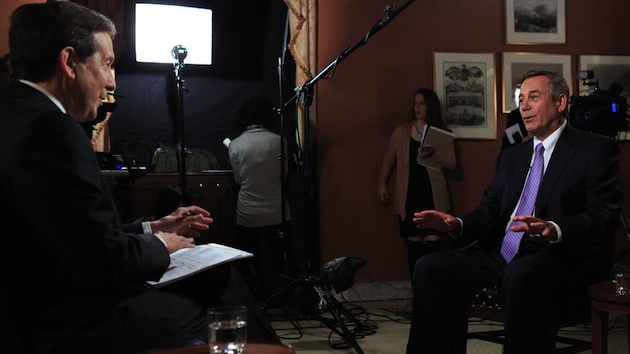 House Speaker John Boehner, R-Ohio, said Sunday that if funding for the Department of Homeland Security expires on Feb. 27, then Senate Democrats "would be to blame."
During an appearance on "Fox News Sunday" — video below — Boehner said he is "certainly" prepared to allow the agency to shut down because the "House has done their job under the Constitution. It's time for the Senate to do their job."
The bill passed by the House on Jan. 14 that funds DHS reverses the president's unilateral, likely unconstitutional actions on immigration. Senate Democrats say they want a "clean" funding bill that preserves the executive action, which is currently being challenged legally by half of the country.
Boehner defended the move to fund Homeland Security and to reverse the president's "overreach," stating that "the House acted" because "Congress just can't sit by and let the president defy the Constitution and defy his own oath of office."
"The House has acted to fund the department, and to stop the president's overreach when it comes to immigration and his executive orders," Speaker Boehner told Wallace.
Boehner said Senate Democrats are "blocking the ability to even debate the bill."
Last week, Senate Majority Leader Mitch McConnell, R-Ky., told reporters the House legislation was "stuck" in the Senate, unable to overcome the 60 votes needed to end a Democrat-led filibuster.
"I think it's clearly stuck in the Senate, we can't get on it, we can't offer amendments to it," said McConnell. "And the next step is obviously up to the House."
Boehner said McConnell is "doing a great job as the new majority leader," but that the next move must come from the Senate.
"Senate Democrats are the ones standing in the way, they're the ones jeopardizing funding," said Boehner. "Why don't they get on the bill and offer an amendment, offer their ideas, let's see what the Senate can do."