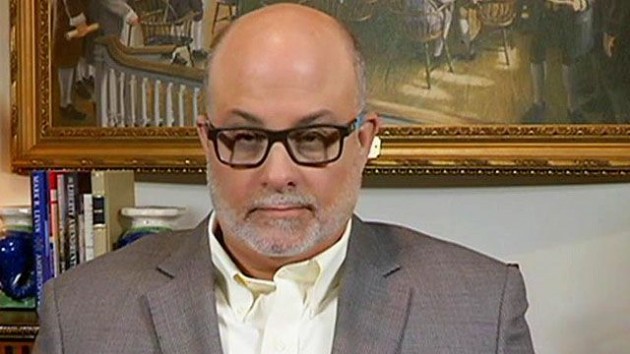 Conservative talk radio host Mark Levin defended "America's Mayor" Rudy Giuliani's recent controversial comments during an appearance Thursday on Hannity. Levin also slammed President Obama for being a "patsy for Islamic terrorism," saying "he's no defender of Muslims."
Mayor Rudolph Giuliani doubled-down on his controversial criticism of President Obama, one day after saying he does "not believe that the president loves America."
"Well Rudy is exactly write," Levin said. "I would add — and I've said this many times on my radio program — when someone says they want to 'fundamentally transform' America, well then you must not love America. It's like saying you want to fundamentally transform your wife. Well that must mean you don't love your wife."
Levin also argued that President Obama is "no defender of Muslims. Muslims are being slaughtered in the Middle East, in Africa, along with Christians, along with non-believers in a certain sect of Islam. This man is not defending them," Levin said. "It's those of us who speak out and who are insisting that we take effective military steps to put an end to this. We are the ones speaking out for Muslims and so-forth."
Levin ended by reading a passage from the diary of Ann Frank, a Jewish victim of the Holocaust who gained world-wide fame posthumously after her diary was published, which documented her experiences hiding during the German occupation of the Netherlands in World War II.
In July 1942, the family began to hide in concealed rooms within the building where Anne's father worked. Sadly, after two years the group was betrayed and, Anne and her sister Margot Frank, were eventually transported to the horrible Bergen-Belsen concentration camp, where they died in March of 1945.
Otto Frank, the only survivor of the family, returned to Amsterdam after the war to find Anne's diary, which, as we now know, was published. The passage from Anne's diary that Mr. Levin read is as follows:
I've reached the point where I could hardly care if I live or die. The world will keep on turning without me and I can't do anything to change events, anyway. I'll just let matters take their course and concentrate on studying in the hope that everything will be alright in the end.

But the minute I was alone I knew I was going to cry my eyes out. I slid to the floor in my nightgown and began by saying my prayers very fervently. Then I drew my knees to my chest, lay my head on my arms and cried all huddled on the bare floor. Then a loud sob brought me back to Earth.
"Mr. President, Mr. President. There are tens of thousands of Anne Franks right now being brutalized," Levin said. "Why don't you do something about? Why don't you demonstrate that you're a leader? You're the commander-in-chief. Let's take care of business."