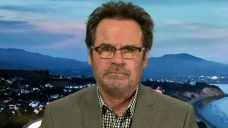 Mar. 04, 2015 – 4:49 – Comedian and weekly O'Reilly Factor guest Dennis Miller weighed in on Israeli Prime Minister Benjamin Netanyahu's speech to Congress.
"My favorite line is when he said Iran's promises are as empty as Nancy Pelosi's stare," Miller joked, mocking the minority leader's awkward behavior many criticized as an inappropriate act. "What was that all about, huh?"
Miller also said the prime minister was forced to come to the Congress to give the speech because "the world is a mad house, it's a mad house."
"Everyone knows we should do to Iran what Harry Reid's Bow-flex machine did to him a couple of months ago," he said. The now-minority leader of the Senate was in attendance still wearing bandages around his head and eye from an exercise accident he suffered.
(MUST READ: Voters Back Bibi: Support Use Of Force Against Iran, 84% Say Obama's Plan 'Bad Idea' )