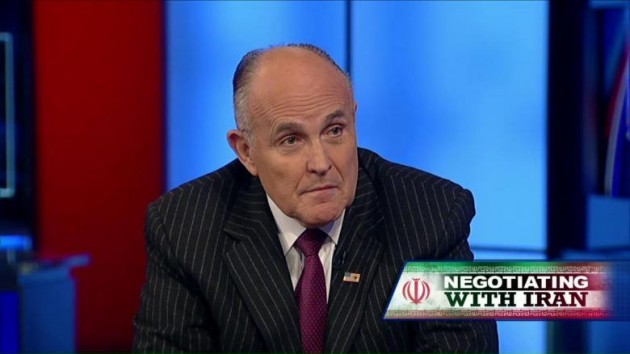 Appearing on "Hannity" Wednesday night, "America's Mayor" Rudy Giuliani slammed President Obama's Iran policy on negotiating over the regime's nuclear weapons. Giuliani said that Obama doesn't have the historical and cultural understanding necessary to deal with Iran, charging he has "a warped view,"
"The reality is he is leading us down a road that is gonna have a severe nuclear proliferation in the Middle East with 2,000-year-old enemies facing off against each other," Giuliani warned, because Obama lacks knowledge on foreign policy, has no real understanding of World War I and World War II, as well as no respect for generals.
Giuliani said that "thousands and thousands of American families don't have their sons today because of that ayatollah that Obama is negotiating with." The former New York mayor said that more people are being killed in Iran today than under Mahmoud Ahmadinejad, yet the U.S. is still negotiating with the country.
"Our secretary of state is sitting there while they are executing hundreds of thousands of people, and they're doing it on purpose," Giuliani added. "I am very, very worried for my country, and I'm very worried for the world," he said. "I do not want to see the nuclear button put in the hands of a maniac."
The former New York City mayor's comments just one day after many of the 52 Iranian hostage crisis victims, who were held for 444 days in the embassy in Tehran by the Islamic revolutionaries, spoke out against the Iranian nuclear talks. In a recent report, the former hostages and their Alexandria-based attorney Thomas Lankford said they want Americans to know that regime cannot be trusted to in the current negotiations.