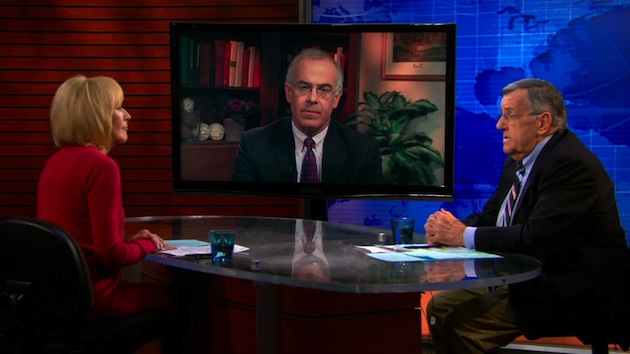 [brid video="7428″ player="1929″ width="630″ height="354″]
David Brooks of The New York Times said Sunday during an interview with Judy Woodruff that some Clinton Foundation donors were "imagining a quid pro quo," and that he was "stunned" by the "egregious" stories.
TRANSCRIPT
JUDY WOODRUFF: Let me turn you to something else closer to home, but very much in the news this week, David, and that is the stories yesterday in your newspaper, The New York Times, and other news organizations about the Clinton Foundation, about money going to the foundation, about a uranium mining company, a Canadian company with donations, again, the head of the company giving money to the foundation, and then that company needing an OK from the U.S. government for the Russians to buy controlling interest.
What are we learning here about the Clinton Foundation and the charities they run?
DAVID BROOKS: Yes, it's way more egregious than I expected.
I thought there were donations and people were giving money. But there were probably people giving money for the noblest of reasons to the foundation, some people not — apparently giving money not for the noblest of reasons. And this uranium story, where there's a connection, where the secretary of state nominally sits on this government body which gives OKs to mergers with national security implications, and then a company deeply involved in that kind of merger giving lots of money in the opportune money to the Clinton Foundation, according to my newspaper, the foundation not reporting it really adequately, that's reasonably stark.
Now, the defense is, she didn't know, she wasn't directly involved. Well, that's completely plausible. But the fact is, you're sitting on — as secretary of state, or you're Bill Clinton running the foundation, and somebody's giving you all this money and you know it has government implications, and that doesn't ring all sorts of alarm bells?
Where's the self-protection there? Where is the self-censorship or the self-thing, no, this is not right? And so I'm sort of stunned by it. I'm surprised by it. And, you know, the paradox of it right now is for Hillary Clinton's president — or candidacy is, people think she's a strong leader.
But the latest Quinnipiac poll suggests they don't trust her, they don't think she's honest. They have these two thoughts in their minds at the same time. And it just seems, with the Clinton family, there's going to be a lot of competence and a lot of great political talent and governmental talent, but you're going to have a run of low-level scandals throughout the whole deal…
But the thing they don't know is why people gave them the money. A lot of people were giving them millions of dollars. And some people did it probably because they believe in the foundation work, and they did it for beautiful reasons. A lot of people give money to these things and to presidential candidates because they want to be near the flame of power. They just want to be in the room.
They can go home and say, oh, I chatted with Bill Clinton. But some people give it because they are imagining a quid pro quo. I doubt there's an actual quid pro quo. Mitt Romney said today it looked like bribery. I think that's — there's no evidence of that.