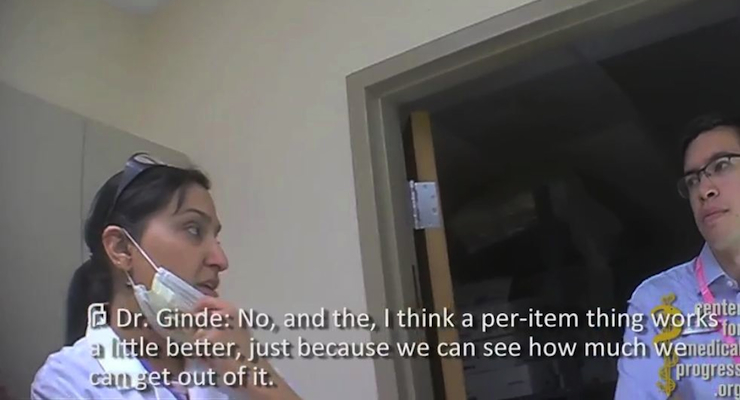 [brid video="12471″ player="1929″ title="Planned Parenthood VP Caught Negotiating Baby Body Parts Sale"]
New undercover video shows Planned Parenthood of the Rocky Mountains' Vice President and Medical Director, Dr. Savita Ginde, negotiating a fetal body parts deal, agreeing multiple times to illicit pricing per body part harvested, and suggesting ways to avoid legal consequences. The video, the latest in a string of videos exposing PPFA and others, comes as Los Angeles Superior Court issued a temporary restraining order blocking the release of further videos revealing Planned Parenthood's trafficking in aborted baby body parts.
"Sometimes, if we get, if someone delivers before we get to see them for a procedure, then we are intact," Dr. Savita Ginde said to actors posing as representatives from a human biologics company, who were meeting with Ginde at the abortion-clinic headquarters of PPRM in Denver to discuss a potential partnership to harvest fetal organs. "We'd have to do a little bit of training with the providers or something to make sure that they don't crush."
Planned Parenthood of the Rocky Mountains (PPRM) is a well-funded, multi-state Planned Parenthood affiliate that performs more than 10,000 abortions each year. PPRM has a contract to supply aborted fetal tissue to Colorado State University in Fort Collins.
"I think a per-item thing works a little better, just because we can see how much we can get out of it," Ginde says in the video after agreeing that "compensation could be specific to the specimen?"
The order issued Tuesday prohibits the Center for Medical Progress from releasing any video of three high-ranking StemExpress officials taken at a restaurant in May. The judges ruling is the first legal action prohibiting the release of a video from the organization, which has said there will be a grand total of 12 videos released.
"Elected officials need to listen to the public outcry for an immediate moratorium on Planned Parenthood's taxpayer funding while the 10 state investigations and 3 Congressional committees determine the full extent of Planned Parenthood's sale of baby parts." David Daleiden, the Center for Medical Progress project lead said. "Planned Parenthood's recent call for the NIH to convene an expert panel to 'study' fetal experimentation is absurd after suggestions from Planned Parenthood's Dr. Ginde that 'research' can be used as a catch-all to cover-up baby parts sales."
Florida Gov. Rick Scott has ordered an investigation into Planned Parenthood following the release of a third grizzly video revealing their traffic in aborted baby body parts. Scott, a Republican, said Wednesday the state will take quick legal and regulatory action if any of the 16 facilities in Florida are found in violation of the law. Scott's decision means the Sunshine State joins seven other state governments — as well as three House committees — currently investigating the largest abortion provider in the nation.
"Putting it under 'research' gives us a little bit of an overhang over the whole thing," Ginde says regarding ways PPFA conspires to skirt the law and avoid public outrage. "If you have someone in a really anti state who's going to be doing this for you, they're probably going to get caught."
Ginde reveals that PPRM's lawyer, Kevin Paul, is helping the affiliate skirt under the fetal tissue law.
"He's got it figured out that he knows that even if, because we talked to him in the beginning, you know, we were like, 'We don't want to get called on,' you know, 'selling fetal parts across states,'" Ginde says. When the believed-to-be buyers ask, "And you feel confident that they're building those layers?" Ginde replies, "I'm confident that our Legal will make sure we're not put in that situation."
At one point in the video, the buyers and Planned Parenthood workers are working to identify body parts from the last fetus in the path lab when a Planned Parenthood medical assistant declares: "Another boy!"
Last Friday, Sen. Paul fast-tracked his defund Planned Parenthood legislation by invoking Rule 14, which resulted in a Senate vote next week. Rule 14 allows the legislation to "skip the committee process and be placed on the Senate calendar so it can be brought up for a floor vote.
The Center for Medical Progress has released three undercover videos revealing Planned Parenthood's trafficking in aborted baby body parts and fetal tissue. Using ultrasound guidance to manipulate the fetus from vertex to breech orientation before intact extraction is the hallmark of the illegal partial-birth abortion procedure (18 U.S.C. 1531), according to the Center for Medical Progress. But it also happens to be illegal. Further, the sale or purchase of human fetal tissue is a federal felony punishable by up to 10 years in prison and a fine of up to $500,000 (42 U.S.C. 289g-2).
According to its 2013-2014 annual report, Planned Parenthood received $528.4 million dollars in taxpayer federal funding for the year ending June 30, 2014. During the same year, the organization performed 327,653 abortions, which they have repeatedly claimed does not result in the harvest of body parts for sale or other illegal use. In fact, when they were first caught harvesting baby body parts 15 years ago, Planned Parenthood claimed it was the action of a rogue affiliate, or franchise-like location.
"The biggest problem is bad actors like Planned Parenthood who hold themselves above the law in order to harvest and make money off of aborted fetal brains, hearts, and livers," Daleidan said.