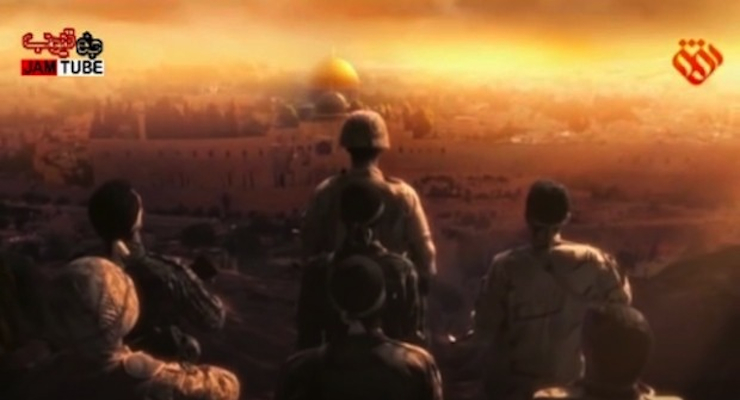 A new Iran video shows Jerusalem being conquered by a military alliance comprised of Iran's Revolutionary Guard forces, Hezbollah and Hamas terrorists. According to the Investigative Project, a Middle East terrorism research organization, the video was released just two weeks after the Iran nuclear deal was announced.
The video, which was produced by the Islamic Revolution Design House, showed the fighters preparing for battle with their gear, headbands, shoes and weapons, then descending on Jerusalem to conquer it.
[brid video="13599″ player="1929″ title="Iran Video "Israel Must Be Obliterated""]
"One dons the IRGC [Revolutionary Guards] insignia on his left arm, another the emblem of the Iran-backed Iraqi Shia Badr Organization," the Algemeiner detailed regarding the cast of fighters portrayed in the video which. "Yet a third dons a headband bearing the Lebanese Hezbollah logo, and a fourth is seen clad in Hamas' characteristic balaclava and the Qassam Brigades green headband."
At the end, Persian script appears saying "Israel must be obliterated," or literally, "erased from the annals of history … and the youth will definitely see that day when it comes," the Algemeiner added.
Meanwhile, Iran's supreme leader Ayatollah Ali Khamenei Tuesday tweeted his support for the groups in the video fighting Israel, tweeting:
We spare no opportunity to support anyone #FightingTheZionists. pic.twitter.com/dQx5rD6JMI

— Khamenei.ir (@khamenei_ir) August 17, 2015