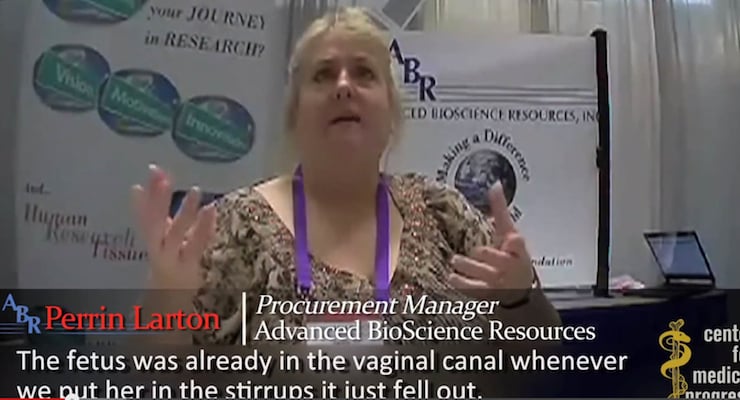 [brid video="14498″ player="1929″ title="PPFA Partner Admits Abortion Laws Threaten Cash Cow in Baby Body Parts"]
In the ninth video in the Planned Parenthood baby parts scandal, Perrin Larton, the Procurement Manager at longtime PPFA partner ABR admits that abortion laws threaten their baby body part cash cow. The video, released by the Center for Medical Progress, a pro-life group, also features undercover conversations with Dr. Katharine Sheehan, the long-time medical director of Planned Parenthood of the Pacific Southwest until 2013, and Cate Dyer, the CEO of rival fetal tissue procurement company StemExpress.
In the previously released video, Dyer admitted to purchasing and shipping "intact" baby bodies and whole severed heads, jokingly stating that they should either shut the eyes or warn the lab before they open the box and see a baby's head with his or her eyes wide open. ABR was founded in 1989 by CEO Linda Tracy and, according to their fee schedule, charges $340 per second-trimester fetal tissue specimen
Larton also joked that a baby "just fell out" during a late-term abortion.
"I literally have had women come in and they'll go in the O.R. and they're back out in 3 minutes, and I'm going, 'What's going on?'" Larton said. "Oh yeah, the fetus was already in the vaginal canal whenever we put her in the stirrups, it just fell out."