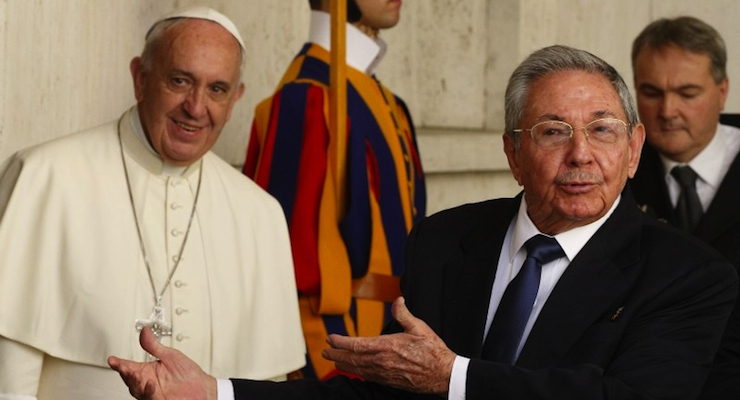 Fox News Contributor and Catholic priest Father Jonathan Morris defended Pope Francis on FOX Business Wednesday during his holiness first visit to the U.S.
Pope Francis arrived Tuesday for a six-day historic trip to the United States, marking the first time the "slum pope" stepped foot in America. Despite telling reporters aboard the chartered plane that some in the media have given the impression that he's "a little bit more left-leaning" than he truly is on economic issues, this pope has undoubtedly been an outspoken critic of capitalism.
The Economist recently called "the Peronist Pope," referring to his known sympathies for Argentina's failed, radical left-wing three-time president, Juan Perón. In 1946, when Juan Perón came to power, Argentina was one of the 10-richest nations in the world, as PPD contributor and CATO economist Dan Mitchell recently pointed out.
"Economic policy certainly wasn't perfect, but government wasn't overly large and markets generally were allowed to function," Mitchell said. "But Perón decided to conduct an experiment in statism. The bottom line is that Perón was a disaster for his nation. Not only did he sabotage Argentina's economy, he also apparently undermined the social capital of the country by somehow convincing a big chunk of the population that 'Peronism' is an alluring economic philosophy."
"Sadly, Pope Francis appears to be one of those people," Mitchell added.
Despite the empirical evidence, the left-wing sect of the Catholic Church driven by public opinion in the region has gained power and the ascent of Pope Francis is evidence of that shift.
"Pope Francis is part of a larger trend of the rise of the political left among Catholic intellectuals," Hoover Institute Senior Fellow, PPD contributor and economist Thomas Sowell wrote in his column this week. "He is, in a sense, the culmination of that trend."