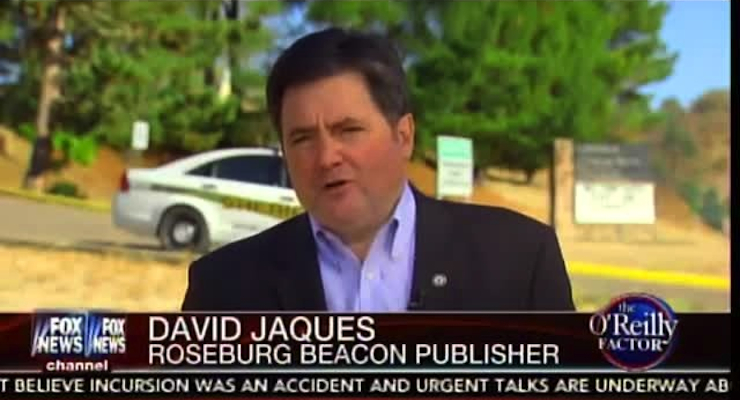 [brid video="17417″ player="1929″ title="Obama "Not Welcome" in Oregon to "Stand on Corpses of Our Loved Ones""]
David Jaques, publisher of the Roseburg Beacon, told Bill O'Reilly on Monday night that President Obama is "not welcome" in Roseburg because people don't want him there to "grandstand for political purposes."
"He wants to come to our community," Jaques said, "and stand on the corpses of our loved ones and make some kind of political point."
President Obama is rumored to visit the Oregon town to politicize the victims of last week's mass murder at Umpqua Community College. In his statements about the shooting, the president said mass killings are becoming a "political choice," and flat-out stated the issue should be politicized.
Mr. Jaques isn't the only voice speaking up and advocating rolling up–not out–the red carpet on Friday. A Defend Roseburg Facebook page is garnering attention for their serious attempt to cancel the president's visit. The Facebook page reads":
The anointed one his majesty king 0bama and the White House have announced a Friday arrival in Roseburg, Oregon in the wake of Oct 1st's horrific tragedy at UCC.
Polarizing as usual, Mr 0bama has insisted on politicizing the event as a conduit for increased executive orders on gun control via means of his pen, and his phone.
This blatant disrespect of the victims families, the community and the town of Roseburg, Mr 0bama's administration is flying not just the 747 that is airforce one to Oregon, but a three helicopter team of Sikorsky's that make up HMX-1, known as Marine one to travel to Roseburg at the taxpayers expense.
We need a lot of people. Please come show your support for Roseburg, not the little man who has no respect for the constitution.