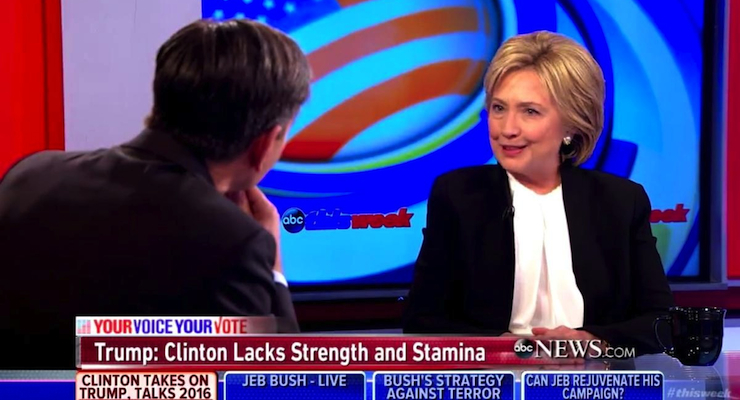 [brid video="21739″ player="2077″ title="WATCH Hillary Blames Lying to Benghazi Victims on "Fog of War""]
While appearing on ABC's "This Week" on Sunday, Democratic candidate Hillary Clinton said she did not lie to the families of the Benghazi victims but instead was caught up in "the fog of war."
George Stephanopoulos, a longtime Clinton ally now posing as a journalist, asked about the uncovered email showing Democratic presidential candidate Hillary Clinton had told the Egyptian prime minister that "we know the attack in Libya had nothing to do with the film," prior to telling them it was a YouTube video that caused the terror attack.
Clinton's claim was reminiscent of her past 2008 claim that she once arrived in Bosnia under sniper fire, which she blamed on being exhausted. However, as PPD has repeatedly reported (here and here), Clinton repeatedly and conscientiously lied to the Benghazi victims' families in the wake of the attack.
In addition to the emails previously obtained by PPD, Rep. Jim Jordan, R-Ohio, hit Hillary Clinton with the smoking gun at the House Select Committee on Benghazi hearing in October. Jordan introduced e-mails that show the former secretary of state calling the attack on the U.S. consulate in Benghazi, Libya terrorism to family and the Egyptian prime minister.