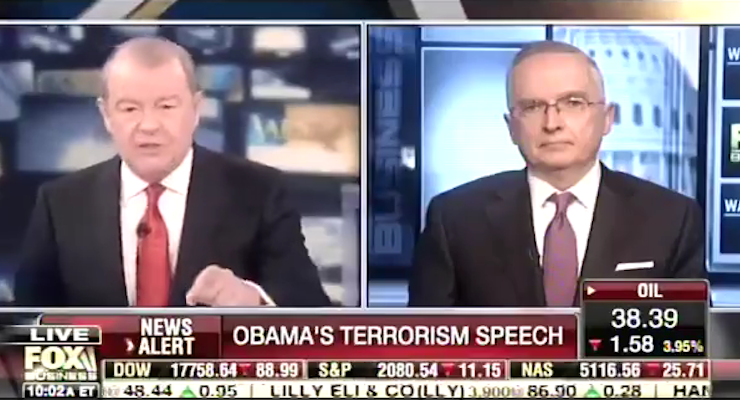 Lt. Col. Ralph Peters: "This Guy is Such a Total Pussy, It's Stunning"
[brid video="21764″ player="2077″ title=" Lt. Col. Ralph Peters on Obama "This Guy is a Total Pussy It's Stunning""]
Retired U.S. Army Lt. Colonel Ralph Peters called President Obama a "total pussy" on live television during an interview with Stu Varney on FOX Business Network. Let's face it, Lt. Col. Peters said what millions and millions of Americans were thinking.
"First of all, he keeps speaking about 'we can't give in to our fears. Don't be afraid,'" Lt. Colonel Peters said mockingly in reaction to his Oval Office address Sunday night. "We're not afraid! You are. I mean this guy is such a total pussy! It's stunning."
In fact, according to PPD's "War Hawk Index," the American people are more willing to go to war with U.S. ground troops now more than any other point in President Obama's presidency. A majority now supports such a move in the latest CNN Poll, which was taken prior to the San Bernardino, Calif., terror attack. Rasmussen Reports Poll and Gallup show a split, while others also show a majority supports ground troops to fight the Islamic State.