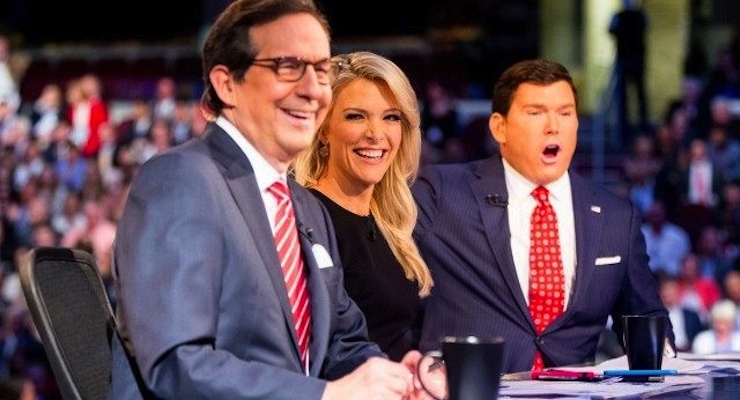 Fox News may be getting hammered by Republican voters and viewers for having an agenda during Thursday night's debate, but they got what they wanted. A stunning 24 million viewers — and potential voters — watched the 9 PM ET Fox News debate with the top 10 Republican candidates for president, making it the highest-rated cable news program of all time, and Fox News' most watched program ever by far.
Nielsen Social TV ratings gave the Fox News debate the top Twitter slot, as well, with 3.3 million tweets and 393 million impressions. The debate blew Jon Stewart's Comedy Central farewell out of the water. The second-tier candidate debate at 5 PM ET drew a whopping 6.1 million viewers, making it the third-highest rated primary debate of all time. The previous champ was ABC News, which hosted a debate that drew 7.6 million on December 10, 2011.
It was clear — even to Bloomberg — that Fox News was trying to have the candidates engage in a cat fight rather than have a substantive discussion on the issues. Why? Because cat fights get ratings. To that end, it's mission accomplished to Fox News. Still, top Democrats, including DNC Chair Debbie Wasserman Schultz are in full panic mode considering the obvious strength and performance of the Republican field.
According to the Post GOP Debate Poll conducted by Gravis Marketing, which asked voters who won the Republican debate, Dr. Ben Carson edged out Donald Trump by 3 percent, 22 – 19 percent.