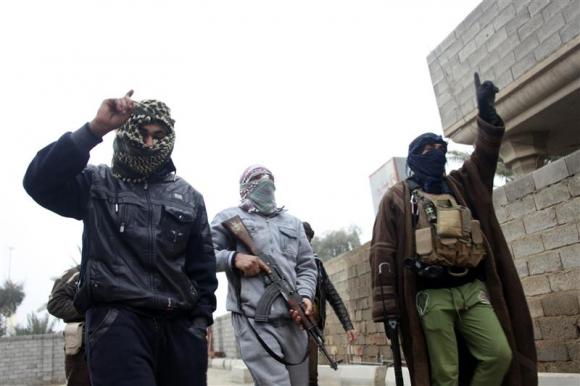 After a bloody 3-day war, with the city of Fallujah captured, Al-Qaeda raised its flag over a government building in the western part of the Iraqi city.
The city of Fallujah was secured by U.S. forces before withdrawing from the country a mere 2 years later under President Obama, but now it appears U.S. blood and treasure were spilled and spent for nothing.
At least 8 people were killed and dozens were injured Friday night as Iraqi troops tried to retake Anbar province from a mixture of Islamist and tribal foes battled Al Qaeda fighters in Ramadi. On Saturday, in response, tribal leaders and officials said the Iraqi army fired mortar rounds, shelling the city of Fallujah.
They have been joined by tribesmen from the Sunni stronghold of Ramadi. Iraqi military have deployed anti-terrorist teams to fight Al Qaeda militants in the streets following a request by tribesmen, who asked the government for help from the army, which had been deployed only on the outskirts of the city, according to tribal sources.
It is a strange alliance of convenience, to be sure, considering their history. 
Sunni tribes began turning against Al Qaeda before the American withdrawal at the end of 2011, but also do not support the Shiite-led government in Iraq.
Fallujah has been held since Monday by a combination of Sunni Muslim militants affiliated with Al Qaeda, as well as tribal fighters united in their opposition to the Iraqi Prime Minister Nuri al-Maliki.
On Friday, Al Qaeda gunman tried to win over hearts and minds of those who make up the population in Fallujah, with a militant commander joining worshippers for Friday prayers in the main city street, claiming that his fighters were there to defend the Sunni people from a hostile government, a resident said.
"We are your brothers from the Islamic State in Iraq and Levant," militants shouted through the city using a stolen police car. "We are here to protect you from the government. We call on you to cooperate."
The tactic seems to be working, having much the same effect on the population U.S. troops had to contend with during the Iraq War. A tribal leader named Sheikh Rafe'a Abdulkareem Albu Fahad, said the tribesmen were finding it difficult to hunt down the Al-Qaeda militants in the southern and eastern part of Ramadi, because Iraqi families had taken them into their homes to hide them.
"We cannot persuade the people to kick them out," he said.
The Iraqi army is caught between a familiar rock and a hard place. "We asked them to raid the area or bomb it with jets, but they keep refusing as they say they do not want anyone to accuse them of attacking residential areas," a tribal militia leader in Ramadi told Reuters by telephone.
Media adviser to the commander of the anti-terrorist squad, Sameer al-Shwiali, said: "We prefer not to attack now, as the militants have been deployed among the families. We call on people in Ramadi and Fallujah to stay away from the militants as there will be lethal strikes targeting those militants in the coming hours."
The fall of Fallujah and Ramadi to the Al Qaeda Iraqi branch in the Sunni heartland — or, in western Anbar provinces — is a serious threat to the Shiite-led government. Prime Minister Al-Maliki has been trying to maintain a government struggling to stabilize souring sentiment among the Sunni minority, who are forced to live under Shiite domination.
Earlier this week, authorities arrested a senior Sunni politician and put an end to a months-old sit-in taking place in Ramadi, setting off long-standing discontent within the Sunni ranks.
Anbar province is a desert area that borders with Syria and Jordan, which has a near universal Sunni population. The area made headlines as the stronghold for Sunni insurgency fighting American troops and the Iraqi government after the 2003 U.S. invasion that overthrew former Iraqi dictator Saddam Hussein.
In an effort to ease the growing Sunni-Shiite tension, Al-Maliki ordered the military to withdraw from Anbar cities and transferred security duties to local police forces, which had been a make-or-break demand by Sunnis. Al Qaeda militants then broke the peace in Fallujah and Ramadi, overrunning the police station and driving out security forces, freeing prisoners as they did.
The total death toll from the violence, which began earlier in the week, is not yet known.