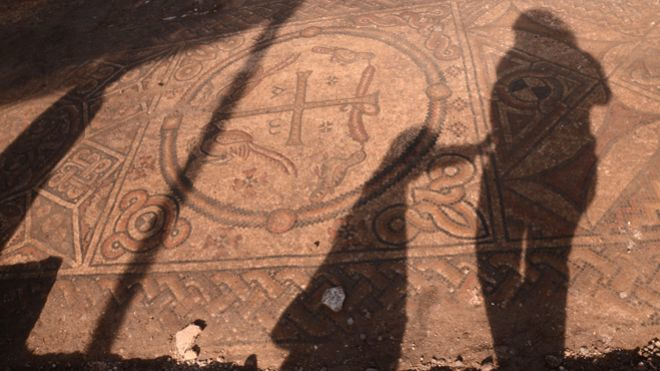 [wzslider transition="'slide'" info="true"]
A 1,500-year-old Byzantine church boasting intricate mosaic decor was uncovered by archaeologists in southern Israel.
The Israel Antiquities Authority (IAA) said the Byzantine-era structure "probably served as a center of Christian worship for neighboring communities."
The discovery was made during a routine salvage excavation conducted by the IAA prior to the construction of a new neighborhood in the area.
In total, the newly discovered building is roughly 72 feet long and 40 feet wide, complete with a central hall and two side aisles that are divided by marble pillars. The courtyard, which is located at the front of the structure, was constructed with a white mosaic floor and a cistern.
In the immediate vicinity of the courtyard they found a rectangular hall with another, even more intricate mosaic floor with colored geometric designs.
Including among the finds are 5 inscriptions, one of which mentions Mary, mother of Jesus, and Jesus Christ, himself.
"At its center, opposite the entrance to the main hall, is a twelve-row dedicatory inscription in Greek containing the names Mary and Jesus, and the name of the person who funded the mosaic's construction," archaeologist Daniel Varga said in a press release.
The main hall has a mosaic with depictions of a variety of animals including zebra, leopard, turtle and wild boar; all of which, are included among Christian symbols.
Among the 1500-year-old church itself, archaeologists also discovered glass vessels, oil lamps, amphorae, cooking pots, kraters, and bowls. These finds "indicate a rich and flourishing local culture" during the Byzantine period.
In order to preserve the site, it will be covered with dirt and the IAA is making plans to remove the mosaic floors to be put on display.