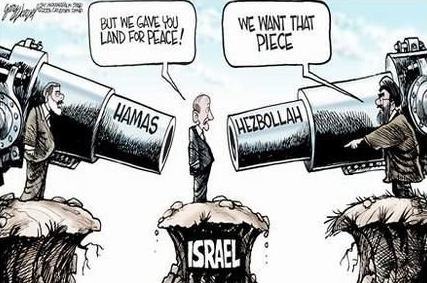 Israeli internal security forces thwarted a jihad scheme to execute a bombing against the United States embassy in Tel Aviv and Jerusalem's Convention Center.
The Jerusalem Magistrate's Court cleared the publication that the Shin Bet, Israeli internal security agency, arrested three Palestinians, all are believed to have been recruited online as part of an Al Qaeda plot.
The three suspects have been identified as Iyad Khalid Abu Sara, Rubin Abu-Nagma — both in their twenties from the West Bank of Jerusalem, and Ala Anam, a resident of the Palestinian Authority in the city of Jenin in his thirties.
The Magistrates also revealed that the three were actively involved in planning at least two major terror attacks — a suicide attack and truck bombing.
Shin Bet, said the men were recruited by operative Arib al-Sham based in the Gaza Strip  through the internet who worked for Al Qaeda leader Ayman al-Zawahiri.
The very same Zawahiri who took over Al Qaeda after the United States took out Osama bin Laden in May of 2011.
Al Qaeda planned to send foreign militants to attack the U.S. Embassy in Tel Aviv using explosives supplied by the Palestinians. The Times of Israel reported there were other planned targets, including an Israeli bus and Israeli homes in East Jerusalem.
Shin Bet said that the Al Qaeda operatives planned to gain entry into Israel using Russian paperwork.
The Israeli security team stated that the thwarted plot is an indicator that the civil war in Syria has not only drawn terror operatives throughout the region it has enabled Al Qaeda along with similar organizations to put down roots.
The civil war gives these terrorists the ability to join forces with Palestinians in the West Bank and Jerusalem that are willing to strike Israeli and Western targets.
Palestinian security officials are brushing of Israel's claim that it broke up a plot, Adnan Damiri, a spokesman for the Palestinian security services in the West Bank, says there is "no indication" that Al Qaeda has a presence in the territory.
He then downplayed the situation accusing Israel of arresting some "boys" and exaggerating the threat in order to advance their position in peace talks.
Israeli officials say they must retain a presence in parts of the West Bank after any peace deal due to real security concerns.
In Washington, State Department spokeswoman Marie Harf briefed reporters, she did not confirm the Shin Bet's report conveying that they were not able to corroborate said intelligence. She did tell reporters there were no plans to evacuate U.S Embassy in Tel Aviv because of the "fairly high security" that was already in place.  She stated, "Obviously we're looking into it as well, I don't have reason to believe it's not true. I just don't have independent verification."