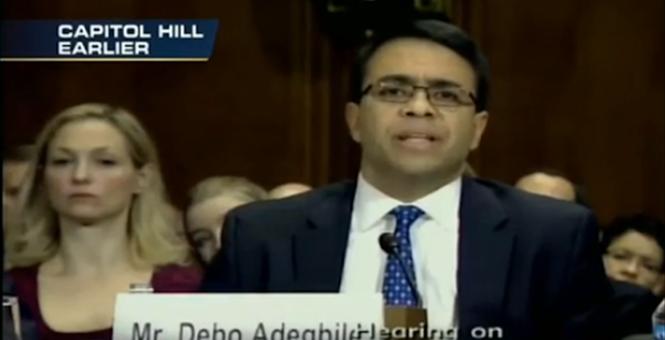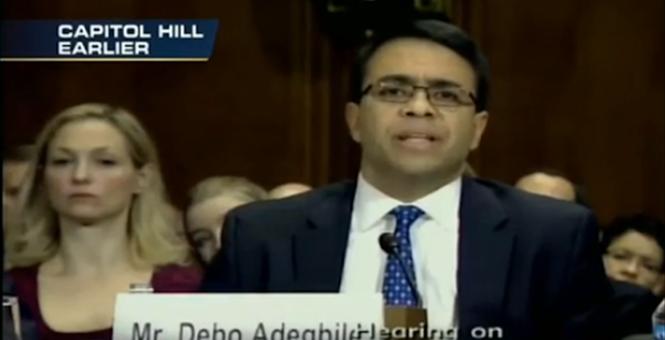 The Senate Judiciary gave the first okay to radical DOJ Obama nominee Debo Adegbile, an attorney who defended and fought to overturn the death sentence of convicted cop-killer Mumia Abu-Jamal.
In a 10-8 vote down party lines, the Democratic majority approved Debo Adegbile to lead the Civil Rights Division, and although the nomination now goes to the full Senate for final approval, the Democratic Majority Leader Harry Reid has pulled the nuclear option, preventing any further recourse.
As acting director of the NAACP Legal Defense and Educational Fund, Debo Adegbile succeeded in getting convicted cop-killer and former Black Panther Mumia Abu-Jamal's death sentence overturned. Abu-Jamal was convicted in the 1981 killing of 24-year old Philadelphia police officer Daniel Faulkner, but the radical DOJ Obama nominee Debo Adegbile
Democratic Senate Judiciary Chairman Patrick Leahy, who outrageously said Adegbile has been unfairly, refused to allow the widow. The officer's widow, Maureen Faulkner, wanted to testify on Thursday, but Sen. Leahy would not allow it.
"I am physically, emotionally and mentally distressed that I'm not able to be in that room," Faulkner told FoxNews.com by phone on Wednesday. "This is personal to me."
A Leahy spokeswoman told FoxNews.com that a hearing to consider Adegbile's nomination was already held on Jan. 8, and lawmakers were allowed to ask questions on his background then. She reiterated that "it's not the practice" of the committee to have outside witnesses.
Perhaps, Patrick Leahy didn't want a widow's statements to be heard all over the nightly news broadcasts, such as this one:
Mr. Adegbile holds Mumia Abu-Jamal, a remorseless unrepentant cop killer, in high esteem. We know this because attorneys working under Mr. Adgebile's supervision have stood before public rallies held in support of my husband's killer and openly professed that it was "an extreme honor" to represent the man who put a hollow based bullet into my husband's brain as he lay on the ground, wounded, unarmed and defenseless.
Faulkner's widow ended her letter with the following plea to put partisanship aside an honor the service and death of her late husband, who was so young at the time of his death:
Your decision means a lot to me personally. The thought that Mr. Adegbile would be rewarded, in part, for the work he did for my husband's killer is revolting. Throughout my long ordeal I have frequently been labeled a racist by many who support my husband's killer simply because he is black and I white. I have also been asked to throw my name, my voice and my support behind political candidates from both parties. In each case I have declined. I have always believed that my husband's death and my quest for justice transcends politics and race. From my heart, I'm asking you to do the same thing. Set aside any partisan feelings you have and do the right thing today when you vote on Mr Adegbile's confirmation. Please spare my family and me from further pain.
Unfortunately, the Democrats did no such thing, validating that the mainstream Democratic Party is now as extreme and radical as it has ever been. The National Fraternal Order of Police wrote and sent President Obama a letter condemning the radical appointment, stating it was a "slap in the face to all law enforcement officers."
Among those Democratic senators who voted in favor of this radical DOJ Obama nominee, was California Democratic Sen. Diane Feinstein, who hypocritically pushed gun control bans throughout her entire career. Her vote demonstrates that the reduction and punishment of crime factors nowhere in her equation for pushing anti-Second Amendment proposals.
Also, the Minnesota Democratic Senator Al Franken, who beat incumbent Norm Coleman in 2008 after massive fraud, will have to answer for this vote during what is quickly becoming a more competitive race in 2014.
http://www.youtube.com/watch?feature=player_embedded&v=kt28jUVN9_k