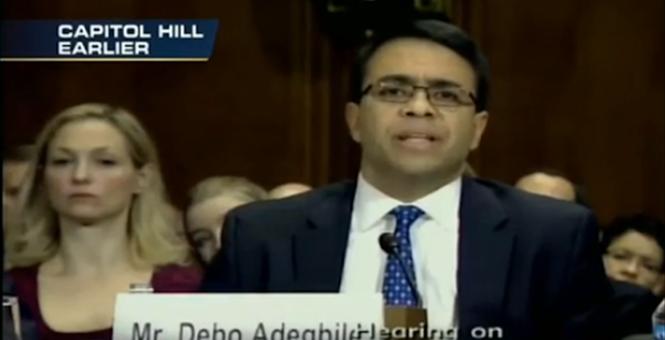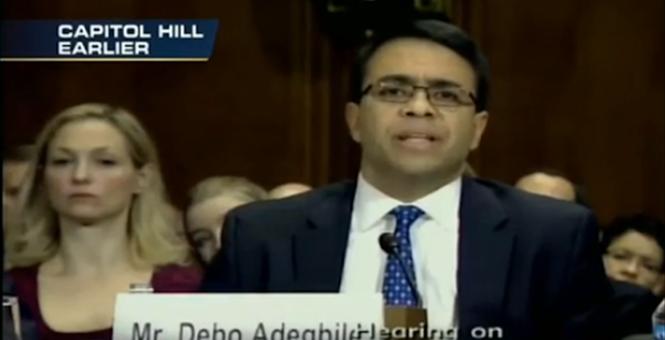 Senate Democrats failed to muster enough support to push a controversial, radical Obama nominee for the Justice Department in a key test vote on Wednesday, leaving the process stalled.
However, what is being pushed as bipartisan concerns about his past work on behalf of convicted cop killer Mumia Abu-Jamal, is not at all what it seems. Senate Democrats were more than willing to vote in favor of moving this nomination forward, with this and other controversial nominations being central to the Democrats' reasons for obliterating the filibuster rule requiring 60 votes rather than a simply 51-vote majority.
But after following intense blowback and a public campaign by and on behalf of the slain police officer's widow, Democrats began feeling political pressure and caved.
The nomination of Debo Adegbile for head of the Civil Rights Division was blocked, on a 47-52 vote.
In anticipation of a tight vote, Vice President Biden, who serves as the President of the Senate and potential tie-breaking vote, actually attended in case he was needed by his Democratic colleagues to break a tie. However, it did not even get to that point, as a total of 7 Democrats, those in tight races in conservative state, parted with the president and joined the Republican opposition.
While the nomination was stalled due to the Democrats jumping ship, some embattled Democrats up for reelection did not join in opposing the radical Obama nominee.
Maureen Faulkner, widow of the Philadelphia officer killed by Abu-Jamal, gracefully said after the vote that Adegbile was "the wrong person for the job." She thanked Democratic senators who "broke ranks and had the courage to do the right thing."
Democrats were also facing serious pressure from police organizations, as well as Republicans, to vote against the nominee. After the vote tally, Republican National Committee Chairman Reince Priebus called the nomination itself "an embarrassment for President Obama," and ralled against "vulnerable Democrats running in 2014" who voted "yes."
Obama, though, stood by his nominee and called the outcome a "travesty based on wildly unfair character attacks against a good and qualified public servant."
In a written statement, Obama outrageously said: "The fact that his nomination was defeated solely based on his legal representation of a defendant runs contrary to a fundamental principle of our system of justice — and those who voted against his nomination denied the American people an outstanding public servant."
Democratic Pennsylvania Sen. Bob Casey, who was essentially hiding under a log until recently, gave his Democratic colleagues cover to vote "no" after he recently came out against the nomination. Casey represents the state where Abu-Jamal killed a Philadelphia police officer.
Adegbile worked with the NAACP Legal Defense Fund who were representing the convicted cop-killer, Abu-Jamal. He was convicted for the 1981 murder of Philadelphia officer Daniel Faulkner, a conviction that was never in doubt nor did he ever deny. Naturally, because he killed a cop, the case has attracted leftists celebrity and media attention for decades, amid factitious and outrageous claims that Abu-Jamal faced racial discrimination.
As acting director of the NAACP Legal Defense and Educational Fund, Debo Adegbile succeeded in getting convicted cop-killer and former Black Panther Mumia Abu-Jamal's death sentence overturned.
Republicans and law enforcement groups like the Fraternal Order of Police were staunchly opposed. Sen. Jeff Sessions (R-AL), questioned Tuesday whether Adegbile could be counted on to advocate for the civil rights "of all Americans," if confirmed to the post of Civil Rights Division director.
The president of the Fraternal Order of Police has called the nomination a "thumb in the eye of our nation's law enforcement officers." They also wrote and sent President Obama a letter condemning the radical appointment, stating it was a "slap in the face to all law enforcement officers."
Faulkner's widow has adamantly opposed the nomination and plead with senators to vote "no."
Both of Pennsylvania's senators, Casey and Republican Sen. Pat Toomey, earlier announced their opposition.
"I respect that our system of law ensures the right of all citizens to legal representation no matter how heinous the crime," Casey said in a statement.
"At the same time, it is important that we ensure that Pennsylvanians and citizens across the country have full confidence in their public representatives — both elected and appointed. The vicious murder of Officer Faulkner in the line of duty and the events that followed in the 30 years since his death have left open wounds for Maureen Faulkner and her family as well as the city of Philadelphia. After carefully considering this nomination and having met with both Mr. Adegbile as well as the Fraternal Order of Police, I will not vote to confirm the nominee."
Obama nominated Adegbile to succeed another radical, Thomas Perez. Perez was confirmed for the Labor secretary post, which Democrats whole-heartedly supported.
The other Democrats who voted against Adegbile are: Sens. Chris Coons, of Delaware; Heidi Heitkamp, of North Dakota; Joe Manchin, of West Virginia; Mark Pryor, of Arkansas; and John Walsh, of Montana.
Adegbile is the first Obama nominee to fail on a Senate test vote since Democrats pushed through changes to the filibuster rule that allows certain nominees to go through with a simple majority, as opposed to the normal 60 votes.