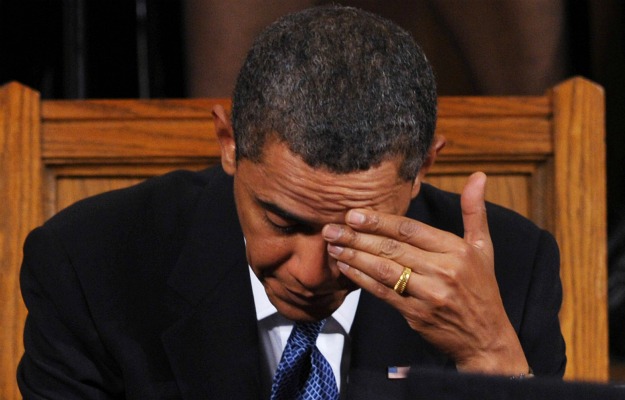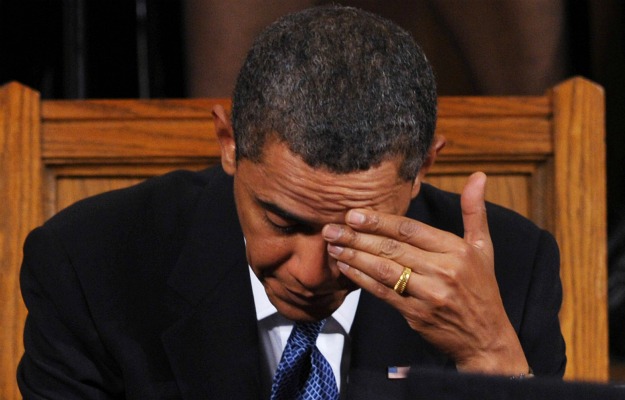 Fox's Obama job approval measurement fell to a record low 38 percent, fueled by majorities of Americans who say he failed at growing the economy, creating jobs, improving health care and the country's image.
According to a Fox News poll released Wednesday, and for the first time, not even four in ten voters — 38 percent — approve of President Obama's job performance, while 54 disapprove. Prior to the latest Fox Poll, the lowest Obama job approval rating was 40 – 55 percent measured in November 2013, following the failed rollout and exposure of a massive lie over ObamaCare.
In February, 42 percent approved and 53 percent disapproved in the Fox Poll. When updated to reflect the latest Fox Poll, PPD's average Obama job approval rating is only 41 percent, while disapproval stands at 53.5, a spread of disapprove 12.5.
Democrats remained fairly steady even though it is a drop from his average performance, but independent have abandoned the president in droves. Obama's job approval among Democrats measured at 71 percent, which is around 69 percent record low in September of 2013. Among independents, an abysmal 28 percent approve, with Obama's job approval among Republicans hitting a new low of just 5 percent.
That would suggest that — although Obama and Democrats have attempted to peel "mainstream" Republican voters away from the "extreme conservative" wing of the party — it isn't working. But when we get in to the individual issues tested, it would seem that reality is finally catching up to President Obama, and people are holding him accountable.
In total, a 59-percent majority thinks the White House has mostly failed at creating jobs, which is up from 52 percent who said the same in October 2012. Likewise, 56 percent feel it has failed on growing the economy, an increase up from 52 percent. Consequentially, an ADP jobs report today found the economy saw very weak private-sector growth.
PeoplesPunditDaily.com previously reported that Gallup found — for the first time — Americans no longer believe Obama is respected on the world stage. Now, in the Fox Poll, the greatest precipitation came from the question of improving America's image around the world, which is something Obama vowed to do once in office that President Bush could not.
In 2012, by a 4 percentage-point margin, voters felt the administration had failed to improve the country's image. In this Fox Poll, they found a 26-point margin, including 33 percent who say mostly he succeeded and 59 percent saying he mostly failed.
Obama also promised to have the most transparent administration in American history, but voters aren't buying it anymore, with 59 percent saying Obama has mostly failed to run a transparent administration.
ObamaCare, the issue that is likely to dominate the 2014 midterm elections, has hurt the president greatly. When asked about health care, 36 percent say the administration has improved it, while a 57 percent majority say Obama has failed to make positive reforms.
The best of the issues tested for the White House is homeland security, but even that issue measured at a significantly lower level. Now, 41 percent think the administration has mostly succeeded at making the country safer, which is down from 52 percent who said that in 2012. Even worse, however, more voters than not — 48 percent — think the Obama administration has mostly failed to make the country safer.
On all of the issues save for transparency, 60 percent or more of Democrats feel the Obama administration has mostly succeeded in each. In transparency, only 47 percent say is transparent.
Majorities of independents say the White House has mostly failed in every area tested, including 68 percent who feel that way on improving America's image.
The crisis in Ukraine appears to have hurt the president on the issue of foreign policy, as well. By a 33 – 56 percent margin, most voters disapprove of the president's handling of foreign policy, which is a new low for the Obama job approval rating on foreign policy. In December, 39 percent approved and 52 percent disapproved.
On health care, 36 percent of voters approve of the job Obama is doing, while 59 percent disapprove. He receives an almost identical 36-58 percent rating on the economy.
On the issue of the economy, however, while the numbers are abysmal they are slightly better than last year, though it is a statistically insignificant difference. Now, just over half of voters continue to say it feels like the economy is getting worse, with 51 percent saying they feel it is getting worse, down from 55 percent in February 2013. Meanwhile, 34 percent say they feel like the economy is getting better, up from 31 percent last year.
There was a new question asked in the Fox Poll, testing if Americans believe "things are better since Obama became president," and only 34 percent of voters think the country is better off. However, a significant majority — 60 percent — disagreed. In September 2012, some 45 percent thought the country was better off compared to before Obama took office.
Fifty-seven percent of Democrats say the country is better off today, down from 81 percent who felt that way in 2012.
The Fox News poll is based on landline and cell phone interviews with 1,002 randomly chosen registered voters nationwide and was conducted under the joint direction of Anderson Robbins Research (D) and Shaw & Company Research (R) from March 2 to March 4, 2014. It has a margin of sampling error of plus or minus three percentage points for the total sample.