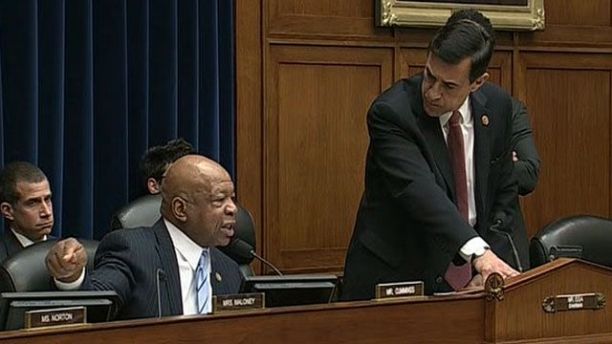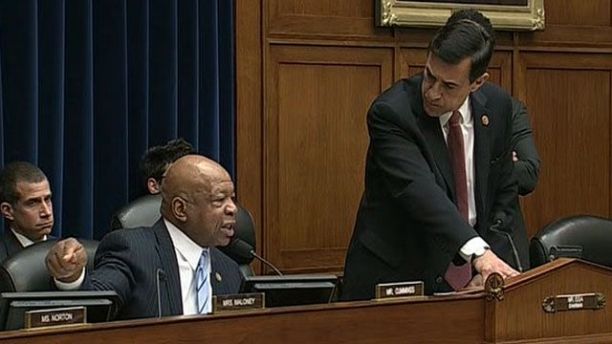 At the anticipated IRS House hearing on Capitol Hill to uncover the source of the targeting scandal, the top Democrat and top Republican broke into an argument just after former IRS official Lois Lerner again invoked her Fifth Amendment right not to testify.
It was a shameful display of behavior amid a shameful abuse of government.
Lerner, who last year refused to answer questions about her role in oppressing Tea Party and other conservative groups through extra scrutiny, was called back before the House Oversight and Government Reform Committee on Wednesday. Republicans argue she waived her Fifth Amendment right by giving a statement during the last hearing, but Lerner invoked that right again on Wednesday even after her lawyer emailed confirming that she would give testimony.
On Saturday March 1, Lerner lawyer William Taylor wrote to committee attorney Steve Castor asking him to give him a call. "We have some change in our thinking," the brief email reads. Castor replied to Taylor, "I understand … Ms. Lerner is willing to testify and she is requesting a one week delay. In talking to the chairman, wanted to make sure we had this right."
Later Saturday afternoon, Taylor replies to Castor, saying only "Yes."
Yet during the IRS hearing Wednesday Lerner took the Fifth.
"On the advice of my counsel, I respectfully exercise my Fifth Amendment right and decline to answer that question," she said in response to every question posed by the committee.
Then, however, ranking Democratic Rep. Elijah Cummings got into a heated argument with Chairman Issa, when Cummings attempted an inappropriate monologue after Issa tried to adjourn the hearing.
Cummings essentially lied to Issa when said he wanted to ask a "procedural question." There was no question prepared, just a partisan monologue that outrageously claimed the moral high ground regarding forces attempting to silence his right to speak and be heard.
It was a staged spectacle and an effort to distract attention away from one of the most, if not the single-most, serious scandal in modern American political history.
Cummings, with his microphone turned off, continued to rant and rave about the Republicans' "one-sided investigation." He failed, however, to express his outrage for the one-sided, Democrat-crafted FCC plan to oppress the press, or the very one-sided targeting of groups that handed the Democratic Party a historical thumping in the 2010 midterm elections.
"I am a member of the Congress of the United States. I am tired of this," he shouted.
After the confrontation, Representative Cummings went on every so-called mainstream liberal news network with the audacity to cry about his silenced speech, following it up with the even more outrageous statement, "I would fight for the Tea Party's right" to be heard.
Critics note that if Cummings cared enough to stand up for his political opposition's right to speak and be heard, then now is his chance. But he clearly doesn't. Curiously, when the IRS targeting scandal was first revealed, Cummings was acting quite outraged and was clearly outspoken during the first IRS hearing in the House.
However, after talking it over with his Democratic bosses, he backed down and began to tow the party line at the expense to his reputation and everyone's freedom. After a failed attempt to pretend as if Inspector General George failed to include in his report that progressive groups were also targeted, a claim that has been widely discredited, Cummings reduced his character to a man willing to play the victim card in the worst instance of government making We the People the real victim in a century.
Representative Elijah Cummings disgraced himself at the IRS hearing today, and he should be shamed back to his multi-million dollar home in Maryland, which consequently, was paid for by the very taxpayers he has refused to defend.
Issa claimed Wednesday that Lerner's testimony remains critical, and it is. Republicans say she must be compelled to testify with or without the cooperation of Mr. Cummings and his droid-like Democratic members sitting on the committee.
"Ms. Lerner is uniquely positioned to provide testimony that will help the committee better understand how and why the IRS targeted conservative groups," he said.
Issa said House leadership has made a decision whether to hold her in contempt if she continues to stay silent, and may begin the process as early as next week. House Speaker John Boehner also made the same threat later in the day.
Last week, Lerner lawyer William Taylor made public a letter in which he told the committee that Lerner would testify on Capitol Hill only if compelled by a federal court or if given immunity for the testimony.
South Carolina Representative Trey Gowdy wasn't at all happy or open with the idea of giving Lerner immunity when asked last week. Now, many Republicans are beginning to say it may be worthwhile to review the idea of granting Lerner immunity, because there is a very good reason she changed her mind, a reason the American people would love to hear.