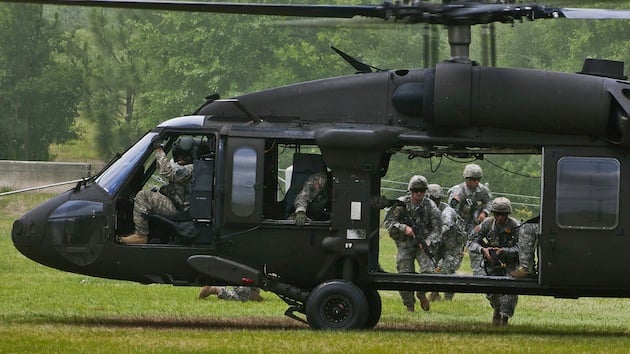 Military officials now say the seven Marines and four soldiers who were on board a helicopter that crashed in the Florida panhandle are "presumed dead." The training area includes 20 miles of pristine beachfront that has been under the control of the military since before World War II.
Search crews struggled to locate the 11 servicemen due to weather conditions Wednesday morning, including dense fog. However, they were able to locate debris from the Army National Guard helicopter– a UH-60 Black Hawk– that crashed in the Florida panhandle during a routine exercise at about 8:20 p.m. Tuesday.
"At this time all are missing," Eglin Air Force Base spokesman Andy Bourland said.
Bourland had earlier characterized the search as an "extremely challenging" situation, but still a "search and rescue" nonetheless.
The names of the Marines and soldiers involved in the crash are being withheld pending notification of next of kin. Military officials confirmed the Marines are part of a special operations group based at Camp Lejeune in North Carolina, and the soldiers are from a Hammond, Louisiana-based National Guard unit.
The helicopter went down on a remote swath of beach between Pensacola and Destin, which is owned by the military and frequently used for test missions. Military police keep a close watch on the area and have been known to run off private vendors who rent jet skis or paddle boards without permission.
Test range manager Glenn Barndollar told The Associated Press in August that the beach provides an ideal training area for special operations units from all branches of the military to practice over the water, on the beach and in the bay.
Bourland said the helicopter took off from Destin's airport and joined other aircraft in the exercise, which are all unharmed and accounted for. There were no actual mid-air collisions as other news outlets have incorrectly reported.