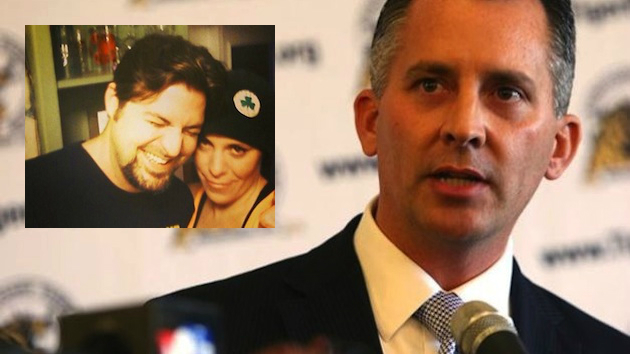 Rep. David Jolly, R-FL, is urging Sec. John Kerry to intervene on behalf of a Florida man jailed in the United Arab Emirates (UAE) over a Facebook post. The Florida District 13 congressman has reached out to Emirate officials and sent a letter to the State Department late last month.
Ryan Pate, 30, a contractor for the Abu Dhabi-based company Global Aerospace Logistics, was arrested for "cyber slander against the UAE and his Employers" after he vented over a dispute with the company in a Facebook post that appeared on a mechanic group's social media page.
Ryan, a 6′ 8″ tall black hawk mechanic, suffers from a severe back condition that was recently diagnosed while he was on leave in the United States. Physicians recommended that he stop performing the more physical aspects of his job in order to ensure he doesn't require surgery in the future. His employers were less than understanding, or "heartless" in the words of his fiancée, Chief Petty Officer Jillian Cardoza, which "upset Ryan deeply."
The company's response prompted Ryan to take to social media while he was still on U.S. soil. An employee from the company saw the post and reported him to administrative officials, who waited for him to return to the country before alerting the police. Ryan, who was arrested upon his arrival, which was intended only to end his employment with the company, now faces over $40,000 in attorney fees, up to a $50,000 fine, and a prison sentence that may be up to 5 years.
His loved ones are raising money for competent representation via the crowd-funding site GoFundMe.com, which they have secured, though at an hourly rate. His trial is set for March 17, 2015 and without continued representation by a good attorney, Ryan will certainly face a prison sentence and a heavy fine. They are hoping to raise $45,000 to cover his attorney fees.
As of the writing of this article, the family has only raised just over $17,000. Rep. David Jolly is fighting to avoid the family's fears coming to fruition.
"It is deeply troubling that Mr. Pate now faces judicial proceedings over an action that was done legally in his home country," Rep. Jolly said. The congressman, after being alerted to the situation by Cardoza, urged Sec. of State John Kerry to intervene in a letter dated Feb. 23, 2015.
"This is to express my strong concern over the arrest of Ryan Pate in the United Arab Emirates (UAE) on or around February 16 and to ask you to provide immediate intervention from the State Department on his behalf," Jolly wrote to Kerry. "
The State Department did not return PPD's request for a comment first issued on Thursday. Rep. Jolly also did not stop with Kerry's office, sending a letter to the proper UAE officials days after his letter to the State Department.
"I fully understand the laws of the UAE regarding social media and respect the sovereignty of your kingdom to defend and uphold its law," Jolly wrote to UAE Attorney General Abdullah al-Bloushi in a letter dated Feb. 26, 2015. "However, the Facebook messages that were posted by Mr. Pate were written while he was residing within the United States. Under the First Amendment of the United States Constitution, Mr. Pate is protected under U.S. law to freely express his opinion regardless of the content. As such it is deeply troubling that Mr. Pate now faces judicial proceedings over an action that was done legally in his home country."
Pate, himself, had previously told The Associated Press the he "just couldn't register it in my head because as an American growing up in the United States, the First Amendment right is just ingrained in my brain." However, he did express remorse and issued an apology for his Facebook post, particularly his reference to those in the company as "filthy Arabs."
Cardoza hoped to clear up some of the prior reports surrounding Pate's imprisonment and comments.
"Ryan is NOT… I repeat, NOT being charged with slander against Islam or any religion, slander against the UAE, or slander against their citizens. Reporting of him being charged with any of these offenses is completely false," Cardoza wrote in a statement. "We, along with Congressman Jolly's office, believe that the fact that Ryan's post was made in the USA, who embraces Freedom of Speech, should play a major factor in this situation."
Cardoza said Ryan has been a staunch supporter of the War on Terror, a role the UAE has taken on as well, albeit with a certain degree of hesitance. The UAE previously withdrew their forces from operations in December after the Jordanian pilot was captured by the Islamic State in Syria. They only resumed airstrikes after the Obama administration provided additional assurances and quick response assets, which are to be utilized by the UAE in the event one of their pilots was downed.
The family says the attorney was able to get Ryan released on bail until his trial, but nothing short of clemency and a swift extradition will secure a reunion.
"We need your help to make this happen," Cardoza wrote on the update. Indeed, Rep. David Jolly is doing all he can to provide it, now it's time for Secretary Kerry to get on board.
If you would like to help "Free Ryan Pate," visit his fiancée's crowd-funding page at GoFundMe.com