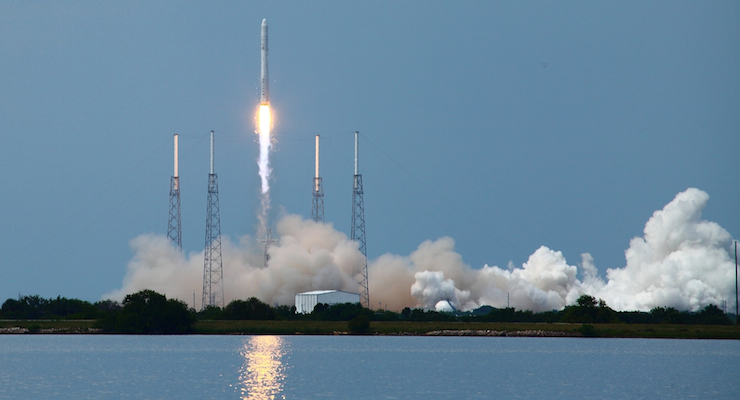 SpaceX announced on Monday that they plan to send two private citizens to the moon in late 2018, marking the first human travel to the satellite since Apollo 17 in 1972.
"We are excited to announce that SpaceX has been approached to fly two private citizens on a trip around the moon late next year," the company said in a statement. "They have already paid a significant deposit to do a moon mission. Like the Apollo astronauts before them, these individuals will travel into space carrying the hopes and dreams of all humankind, driven by the universal human spirit of exploration."
The company also said in the statement they expect to conduct health and fitness tests, as well as initial training in late 2017.
SpaceX has delivered supplies and other cargo to the International Space Station (ISS) and successfully landed their rocket back on Earth on multiple occasions, though there have been failures. They are one of only two companies, Boeing being the other, contracted by NASA to lift astronauts up to the space station, which is due to happen in 2018.
Falcon Heavy, which has not yet been launched, will be used to take the two private citizens to the moon and lift-off will be from Kennedy Space Center's historic Pad 39A near Cape Canaveral. It has two-thirds the thrust of a Saturn V moon rocket and more than double the thrust of the next largest launch vehicle currently flying.
"Falcon Heavy is due to launch its first test flight this summer and, once successful, will be the most powerful vehicle to reach orbit after the Saturn V moon rocket," the company said.
Pad 39A is the same launch pad used by the Apollo lunar program missions.
"Once operational Crew Dragon missions are underway for NASA, SpaceX will launch the private mission on a journey to circumnavigate the moon and return to Earth," the company said. "This presents an opportunity for humans to return to deep space for the first time in 45 years and they will travel faster and further into the Solar System than any before them."
[brid video="117685″ player="2077″ title="Falcon Heavy Flight Animation"]