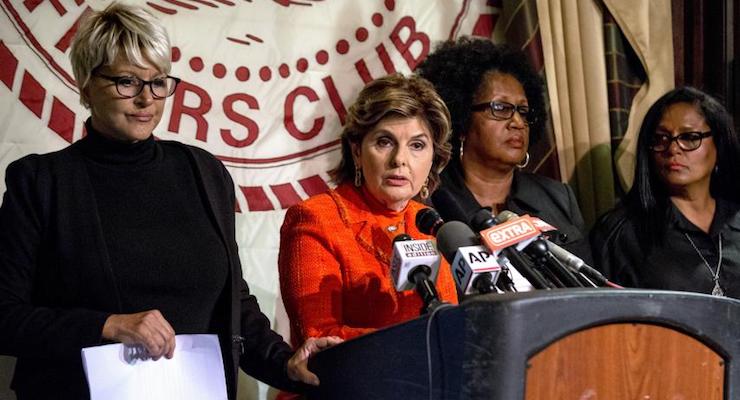 The controversial high-profile California attorney Gloria Allred is under investigation by the State Bar of California for possible misconduct, LawNewz.com reported. The probe, which they say has been confirmed, involved unclear details but they are typically opened after a complaint has been filed and not all instances warrant an open investigation.
"If it appears, however, that the attorney may be a repeat offender or have committed a violation where there is a serious likelihood of discipline being imposed, an investigator and a Bar prosecutor from the Enforcement Unit take over the investigation," the California Bar's website states.
According a letter from the State Bar of California viewed by LawNewz.com, the case has already been forwarded to the State Bar's Enforcement Unit for further investigation and possible prosecution.
"It is not clear specifically what the State bar is investigating, but they typically only open investigations after receiving complaints from consumers, other attorneys, or former clients," the report stated.
But Allred claimed to have received no notice of an open investigation, which is required to get. Her statement to LawNewz.com reads:
Someone has attempted to shake me down by threatening to report me to the State Bar unless I paid him a large sum of money. I have refused to pay this individual any amount of money. I will not be threatened or bullied by false accusations.

The State Bar is required to notify lawyers in the event of any investigation. We have not been notified by the State Bar of any complaint or any investigation.

I have a spotless record with the State Bar in the more than 40 years that I have been an attorney. I have no intention of allowing anyone to harm my reputation by making allegations against me which have no merit.
Allred is known for taking controversial celebrity cases, particularly those involving allegations of sexual assault and discrimination. She was used by Democrats during the 2016 presidential campaign to parade out alleged victims claiming now-President Donald J. Trump sexually assaulted them, many of which were debunked and all disputed by the then-candidate himself.
She also represented several women who have accused Bill Cosby of sexual assault.
At least for now, there have been no formal charges filed against Allred, who has had no disciplinary history at all with the State Bar of California. But experts told LawNewz.com that could be telling.
"There could be many reasons why the complaint was set to the Enforcement Unit," Zachary Wechsler, a California attorney who represents other lawyers during bar investigations told LawNewz.com. "I would be reluctant to read in that she is in serious trouble … she could be if there are charges eventually filed."
The range of possible discipline in bar investigations includes reproval to disbarment.