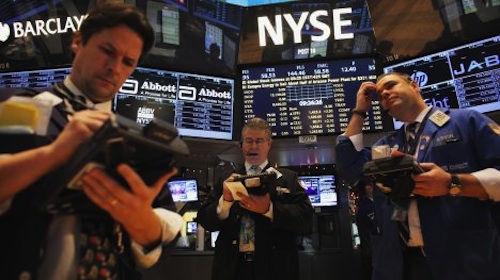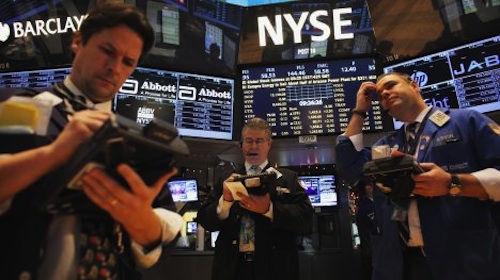 The Ukraine crisis sent global markets tumbling last night and Wall Street followed suit on Monday, increasing the potential for sanctions on Russia. The increased threat of war forced investors to run for safety, pushing stocks down sharply.
The Moscow market fell 11.5 percent while gold hit a four-month high. The country's sovereign dollar bonds also fell more than 2 points, and the cost of buying 5-year swaps to insure against a Russian debt default sharply increased by 33 basis points.
"Investors had underestimated the risks of an escalation in Ukraine, so the events over the weekend are a wake-up call for the market," said David Thebault, head of quantitative sales trading at Global Equities in Paris.
Wall Street followed global markets as futures were sharply lower on Monday, as  U.S. crude oil jumped $2.16, or 2.1 percent, to $104.75 a barrel. Wholesale New York Harbor gasoline climbed 1% to $2.79 a gallon, and gold prices jumped $23.90, or 1.8 percent, up to $1,346 a troy ounce. The yield on the benchmark 10-year Treasury fell 0.034 percentage point to 2.618 percent.
As of 9:45 AM ET, the Dow Jones Industrial Average had fallen more than 120 points.
"Barring a Russian attempt to take all of eastern Ukraine, which would produce a grave crisis, it appears that the big angle is economic — with a growing likelihood of sanctions that will bite, to the displeasure of multinational corporations which may have to curtail their business dealings with Russia," analysts at the Washington, D.C.-based PRG Group wrote in a letter to clients today.
Still, Peter Boockvar, chief market analyst at The Lindsey Group, told his clients to ignore event-driven swings and remain focused on economic fundamentals.
"While we cannot discount at all what is going on in the Ukraine because Russia is not some small, modest country, I would not be surprised if this week's market close at 4pm on Friday is more determined by Friday's payroll number and how people think the Federal Reserve will respond than what is going on in Crimea," he said.
Meanwhile, the Commerce Department said on Monday consumer spending increased 0.4 percent in January, following an uptick of a previously revised 0.1 percent in December. Spending was previously reported to have gained 0.4 percent in December.