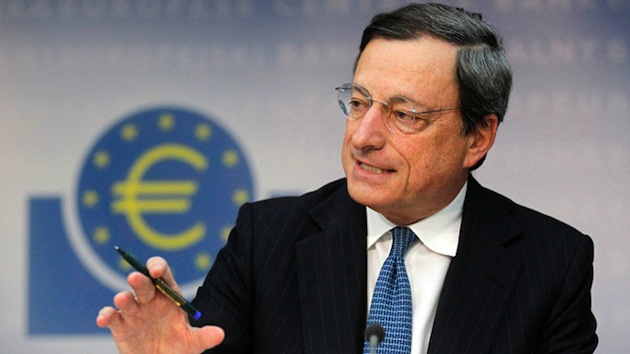 The euro (EURUSD) reached a nine-year low against the U.S. dollar, falling more than 1 percent on worries of negative inflation and the economic fallout from Greece's political crisis. The euor eventually increased slightly to 0.8 percent, but it fell as low $1.18605 overnight, which was its lowest level since March 2006.
It struggled at $1.1895 when U.S. trading began, as the dollar (USDUSD) rose and extended its bull run all the way to a nine-year high.
European Central Bank President Mario Draghi said in an interview last week that the bank could begin its own quantitative easing program, similar to those pursued by the U.S. and British central banks in recent years.
The European Central Bank announced they would keep the cost of borrowing at record lows after a meeting back in early December, facing two-sided pressure from Washington and Germany. However, Draghi's statement came ahead of Wednesday's release of Germany's official inflation figures, which saw more weakness in December, adding to the downward pressure on the euro and government bond yields before Wednesday's euro zone estimate.
Meanwhile, investors have renewed fears that Greece could leave the 19-country currency union. Greeks will vote in snap elections on Jan. 25 that could potential result in the election of the radical left-wing SYRIZA. The group has suggested said it wants to free Athens from the austerity measures imposed by its bailout, breaking a national promise and leaving Germany and France on the hook to foot the bill.
Prime Minister Antonis Samaras suggested that the future of the Eurozone hangs in the balance in Greece's election, as the country's decision to exit from the currency union could spark other debtor countries to follow suit.