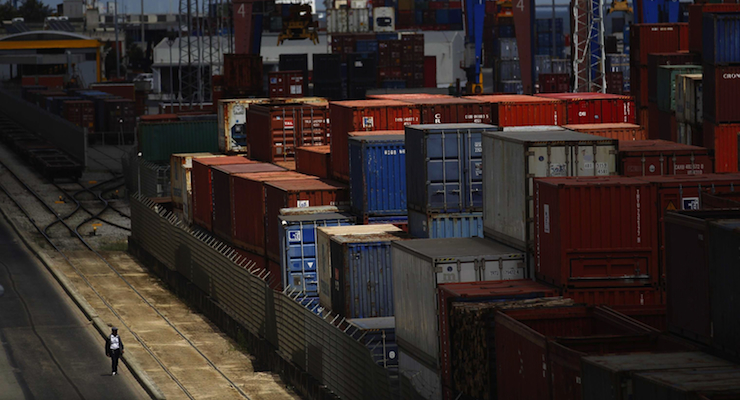 The Commerce Department said on Wednesday the U.S. trade deficit narrowed by 15% to $40.8 billion in September, its lowest level in seven months. Economists polled by Reuters had forecast the trade gap shrinking to $41.1 billion in September.
The report shows much of the widening deficit posted in August was reversed, though the prior month's numbers were revised slightly down to $48 billion from the previously reported $48.3 billion. When adjusted for inflation, the deficit fell to $57.2 billion in September from $63.0 billion in the prior month. Trade had virtually no impact on gross domestic product (GDP) for the third quarter, which clocked in at just 1.5%. The steep decline in economic growth from the second quarter, which came in at 3.9%, was fueled in large part by a slow pace of inventory accumulation scaling back from energy firms.
Exports in September rose 1.6% to $187.9 billion and exports of services hit a record high. There were also increases in exports of capital goods, while exports of industrial supplies and materials fell to their lowest since October 2010. Imports of industrial supplies and materials also fell to their lowest level since August 2009, as petroleum imports saw their lowest since May 2004 largely fueled by an increased domestic energy production and lower oil prices.
The price of petroleum averaged $42.72 per barrel in September, down from $49.33 in August and $92.52 in September 2014.
However, imports from China hit a record high in September, pushing the politically sensitive U.S.-China trade deficit to an all-time high of $36.3 billion. That was up 3.8% from August. The news will certainly be echoed by GOP frontrunner Donald Trump, who has harshly criticized politicians on both sides of the aisle for "losing" to China by negotiating imbalanced trade deals and allowing currency manipulation.