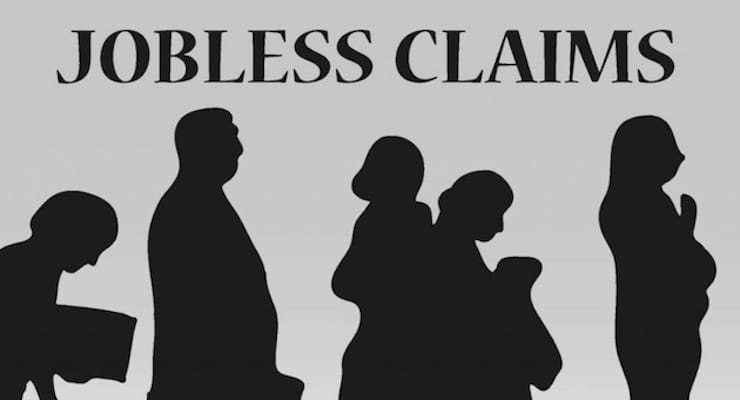 Weekly jobless claims fell by 16,000 to 269,000 last week. That came in lower than the estimate for 281,000, while the prior week was unchanged at 285,000.
A Labor Department analyst said there were no special factors impacting this week's initial claims and no state was triggered "on" the Extended Benefits program during the week ending January 23.
The four-week moving average–which is widely considered a better gauge as it irons out the ups and downs–was 281,250, falling 3,500 from the previous week's unrevised average of 284,750. Though claims have been higher this year than the prior, they remained below the 300,000 threshold, which is historically associated with strong labor market conditions, for 49 straight weeks.
That's the longest period since the early 1970s.
Claims data have sparked an internal debate among economists as to whether the labor market remains strong–despite slowing economic growth and a stock market rout–or if long-term unemployment is behind much of the record-low claims level.
There were 15,233 former Federal civilian employees claiming UI benefits for the week ending January 23, an increase of 1,202 from the previous week. Newly discharged veterans claiming benefits totaled 16,304, an increase of 127 from the prior week.
The highest insured unemployment rates in the week ending January 23 were in Alaska (4.8), West Virginia (3.6), Montana (3.4), New Jersey (3.3), Connecticut (3.1), Pennsylvania (3.1), Puerto Rico (3.0), Illinois (2.9), Massachusetts (2.9), and Wyoming (2.9).
The largest increases in initial claims for the week ending January 30 were in Illinois (+5,092), Tennessee (+4,211), Pennsylvania (+4,055), Maryland (+2,463), and New Jersey (+2,129), while the largest decreases were in California (- 2,873), Wisconsin (-1,246), Minnesota (-978), Michigan (-743), and Missouri (-738).