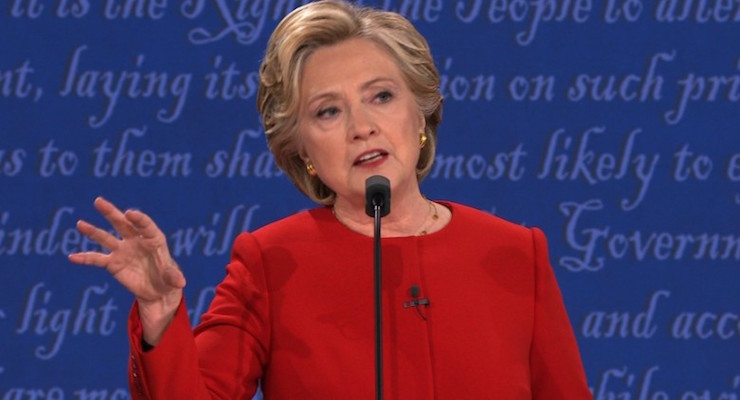 Democrat Hillary Clinton is receiving pushback for claiming at the first presidential debate at Hofstra University on Monday that "independent" analysts favor her economic plan over the one proposed by her Republican rival Donald Trump. During the "Achieving Prosperity" segment of debate, Mrs. Clinton admitted she wanted to raise taxes and regulations across the board, which Mr. Trump said would "regulate businesses out of existence."
"There's a night-and-day difference between the two candidates on economic policy," said Club for Growth PAC President David McIntosh. "Donald Trump wants to cut taxes and slash unnecessary regulations, while Hillary Clinton will raise taxes and continue the Washington regulatory industry. Clinton's plan is a job-crushing assault on economic growth.
The Club for Growth, which promotes economic prosperity and liberty, disputes the review cited by Mrs. Clinton during the debate, which in fact is just an article by an ally at The Washington Post.
"Her tired old ideas of class envy and government handouts will continue to punish middle-class working families," Mr. McIntosh added.
And Mr. McIntosh isn't alone.
The Tax Foundation recently released a study examining the 10-year impact of the candidates' plans on gross domestic product, capital investment, wages, jobs and tax revenue. On nearly every single indicator, Mr. Trump's tax plan will have a far more beneficial impact on the economy than Mrs. Clinton's, which actually does damage to the U.S. economy over 10 years. However, despite what the presumptive Republican nominee has claimed, neither static nor dynamic scoring prevents billions of dollars in deficits as a result of Mr. Trump's plan.
To be fair, Mr. Trump does have plans to offset the budget shortfall by reforming foreign interventions and the North Atlantic Treaty Organization, also called the North Atlantic Alliance or NATO. He also has plans to save money on health care and budgetary reform, which was not scored by the Tax Foundation.
[brid video="65949″ player="2077″ title="Trump to Clinton "You are Going to Regulate Businesses Out of Existence""]