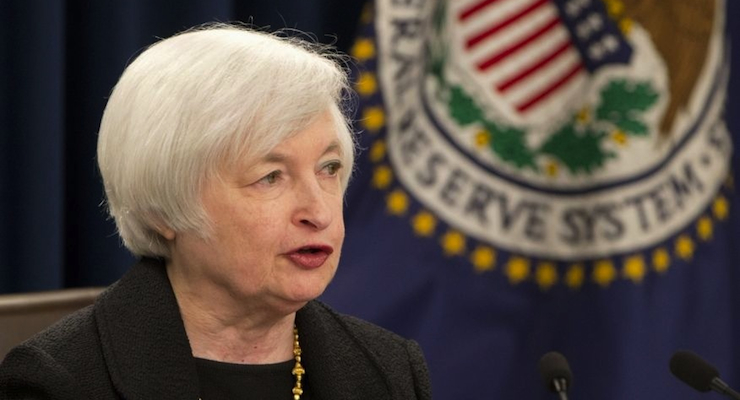 The Federal Reserve on Wednesday finally raised interest rates after a year of anticipation and for only the second time since 2006. The decision to hike rates by just a 0.25 percentage point to a range of 0.50% – 0.75% was unanimous and coupled with a more optimistic outlook by the U.S. central bank for future rate hikes.
"Our decision to raise rates…is a reflection in the confidence we have in the progress the economy has made and our judgment that progress will continue," Fed Chief Janet Yellen said at a press conference following the decision. "And the economy has proven to be remarkably resilient, so it is a vote of confidence in the economy."
Yellen offered a carefully choreographed public message after the conclusion of the Federal Open Market Committee's final two-day meeting of the year. The policy-making committee cited continued economic improvement including "solid" job gains, increased consumer spending and rising inflation.
The Federal Reserve also increased its outlook on anticipated interest rate hikes from 2 to 3 in 2017, though the Chairwoman Yellen stressed the pace of those rate would remain "gradual," as it expects only "moderate" economic growth over the next year. The central bank estimates only a 2.1% annualized economic growth for 2017, with unemployment rate of 4.5% and core inflation rising to 1.9%.
"We're operating under a cloud of uncertainty at the moment and we have time to wait and see what changes occur and factor those into our decision making as we gain greater clarity," Ms. Yellen said. "Market participants are uncertain too, and I would expect changes in our understanding in what's going to happen to also affect market prices as we move forward."
However, the latest forecast looks a lot like the forecast last December, which projected 4 rate hikes and some analysts are suggesting it is still too aggressive.
"I think the bite out of growth from the higher rates we've already seen from the back up in the long end of the curve will mean two rate increases next year," said Constance Hunter, chief economist at KPMG. "Add to that the fact we only need about 134,000 average job growth next year to get to the 4.5% unemployment rate with the current participation rate, and we're already looking at a slower growth trajectory."
A Labor Department report released earlier this week indicated inflation was not going to hit the Fed's 2% target anytime soon. The U.S. dollar (USDUSD) has surged post-election relative to the currencies of its main trading partners after slipping from June 2014 to January 2016, causing deflation to be imported, which in turn has kept inflation below the Fed's 2% target.