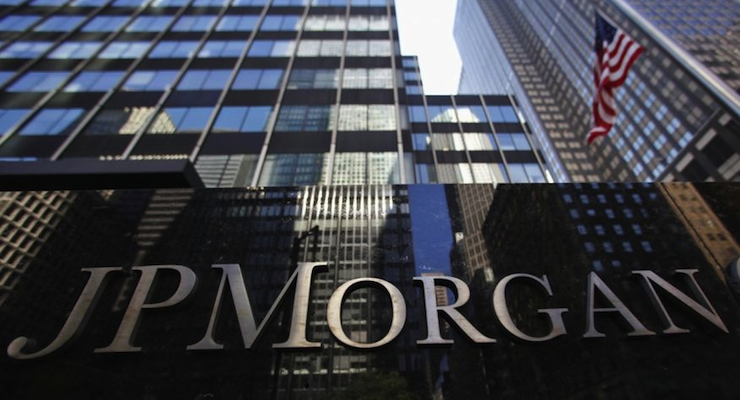 JPMorgan Chase & Co. (NYSE:JPM) posted fourth-quarter (4Q) profit gains of 24% as post-election trading boosted earnings per share. The nation's biggest bank by assets was expected to report a profit per share of $1.44 on revenue of $23.94 billion, but instead posted a profit of $6.73 billion, or $1.71 a share.
That compares with a profit of $5.43 billion, or $1.32 a share, in the same period of 2015. For the year, JP Morgan earned $24.7 billion, marking an all-time record for the bank and exceeding the previous earnings recordset in 2015.
"Our results this quarter were a strong end to another record year, reflecting our intense client focus and solid performance across our businesses," Jamie Dimon, Chairman and Chief Executive Officer (CEO) said in a statement. "In the Consumer business, we had double digit growth in deposits and core loan balances, our credit card sales volume was a record, and for the year we had over $1 trillion of merchant processing volume."
Noninterest revenue was flat at $12.3 billion and noninterest expenses for the bank was $13.8 billion, down 3% and compared to the $14 billion estimate. The decrease in expenses was largely fueled by lower legal expenses. The quarterly earnings report revealed they now have 26.5 million active mobile customers, up 16% from the previous quarter.
"The U.S. economy may be building momentum," Mr. Dimon added. "Looking ahead there is opportunity for good, rational and thoughtful policy decisions to be implemented, which would spur growth, create jobs for Americans across the income spectrum and help communities, and we are well positioned to play our part."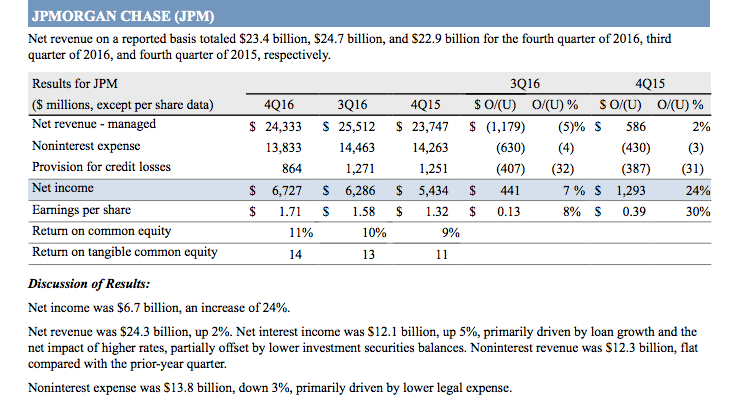 The provision for credit losses was reported to be $864 million, easily outperforming the $1.39 billion median forecast and down from $1.25 billion a year earlier. Revenue increased 2% to $24.3 billion, topping the $24.2 billion estimate.
As of 10:01 AM EST, shares of JPMorgan were up 1.86%, or 1.6 points to 87.84, and have surged 23% since President-elect Donald J. Trump defeated Democrat Hillary Clinton in November.
Bank of America Corp (NYSE:BAC) and Wells Fargo & Co. (NYSE:WFC) both posted earnings with JPMorgan Chase & Co. on Friday, while Morgan Stanley (NYSE:MS) will release earnings on Tuesday, followed by Goldman Sachs Group Inc. and Citigroup Inc. (NYSE:C) on Wednesday.
Bank of America posted fourth-quarter profits that topped forecasts as revenue from fixed-income trading increased and expenses dropped. Wells Fargo & Co. posted fourth-quarter (4Q) profits and revenues of $0.96 per share and $21.6 billion, both missing the analysts' expectations.
Meanwhile, auto sales gained 2.4% in December after falling 0.2% in November. Receipts at service stations rose 2.0%, largely the result of increasing gasoline prices.