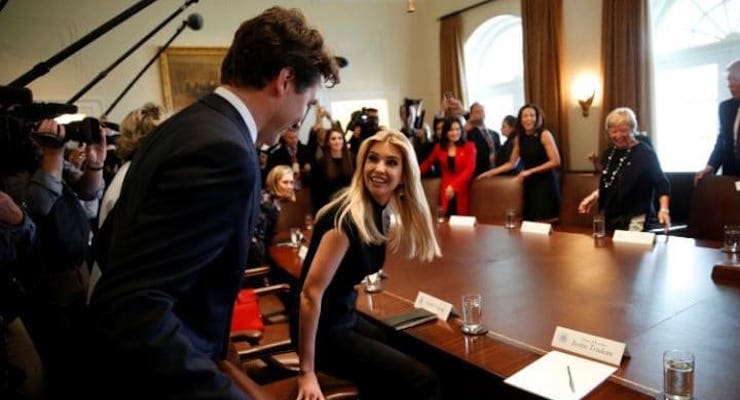 President Donald J. Trump, his daughter Ivanka and Canadian Prime Minister Justin Trudeau announced the creation of a council for female business leaders and entrepreneurs. The new project called the United States Canada Council for the Advancement of Women Business Leaders-Female Entrepreneurs aims to addressed topics such as childcare for working mothers, recruiting and retaining women in the workplace and encouraging a higher level of female entrepreneurship.
"In order to create economic growth and well-paying jobs we must assure the economy is a place where women can work and thrive," President Trump said as he introduced the roundtable.  "Ivanka is very much involved in this."
The president's comment clearly was meant to show his appreciation to his daughter's work in the effort. Ivanka was also a key figure in the crafting of the president's proposed plan to help working mothers unveiled on the campaign trail.
Prime Minister Trudeau said the council will address the "significant barriers" women face in the working world.
Among the business leaders in attendance were Elyse Allan, the CEO of General Electric Canada, Accenture North America CEO Julie Sweet, TransAlta Corp. CEO Dawn Farrell and Investissement Québec's Monique Leroux.
"It is a priority of both countries to ensure equal opportunities for women in the workforce," the White House said in a statement. "We are committed to removing barriers to women's participation in the business community and supporting women as they advance through it."
"We expect this initiative to promote the growth of women-owned enterprises and to further contribute to our overall economic growth and competitiveness, as well as the enhanced integration of our economies," the administration's statement added.
[social-media-buttons]