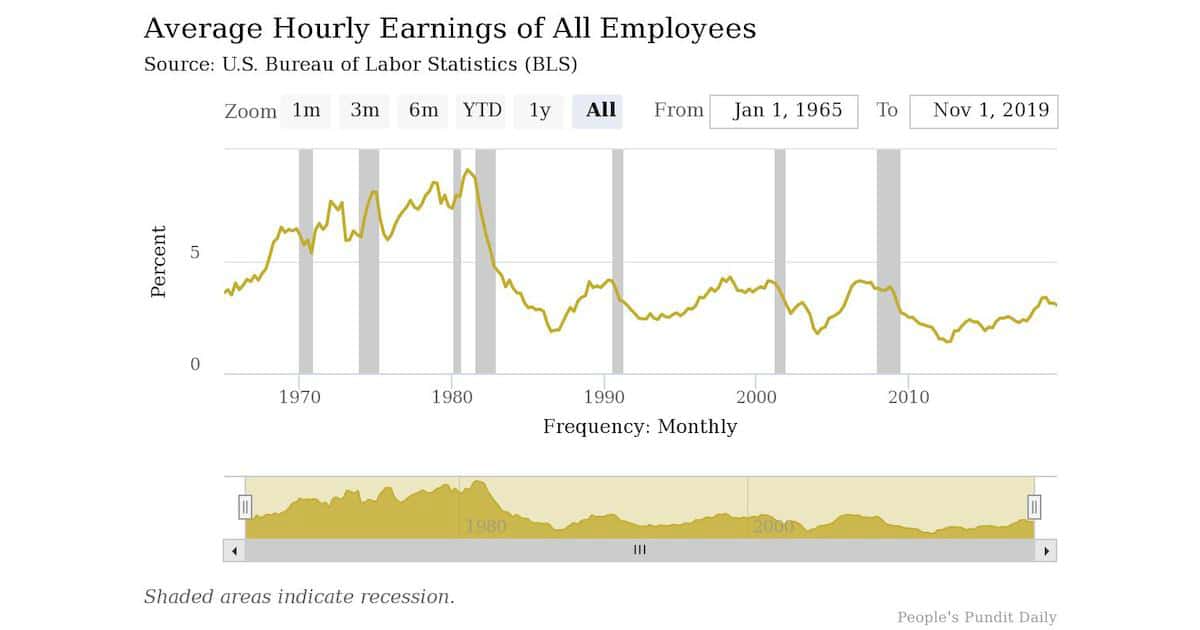 Unemployment Rate at or Below 4% for 21st Consecutive Month
Wages, or average hourly earnings (AHE), have risen on an annual basis by at least 3% for 16 consecutive months in November. The U.S. Bureau of Labor Statistics (BLS) Employment Situation monthly data shows nonsupervisory workers' wages have been leading wage growth.
Average hourly earnings for all employees on private nonfarm payrolls rose by 7 cents to $28.29. Wages increased by 3.1% over the last 12 months in November.
"Year-over-year wages have grown at or above 3.0% for 16 straight months," U.S. Secretary of Labor Eugene Scalia. "It is encouraging to see sectors like retail and leisure and hospitality leading wage growth."
In September, wage growth was initially reported to have slowed to 2.9%, though a still solid gain. However, it was revised higher in the report released on Friday. The 12-month percentage change for October was revised higher from 3.0% to 3.2%.
As People's Pundit Daily (PPD) previously reported, data indicate wage growth in 2019 was likely stronger than we currently believe.
In the fourth quarter (Q4) 2018, wages posted the biggest gain (3.1%) since Q3 2008, a critical threshold indicating a healthy labor market for the first time since the Great Recession. That trend — while temporarily disrupted in September — has now more clearly continued into 2019.
"Today's report shows the economy continues to flourish," Secretary Scalia added. "But we must continue to seek more expansion and opportunities for all Americans — and a critical step in that direction is enactment, now, of the United States-Mexico-Canada Agreement (USMCA)."
The USMCA trade agreement — which the president renegotiated to replace NAFTA — has majority support in both the U.S. House of Representatives and the U.S. Senate.
However, House Democrats have chosen to prioritize impeachment hearings over the USMCA and other administration agenda items such as lowering prescription drug costs. The window to approve the USMCA this year, closed this week.
Meanwhile, the U.S. economy added a solid 266,000 jobs in November -— an astonishing 86,000 jobs more than expected— and the unemployment rate fell to 3.5%. Manufacturing employment rose by 54,000, crushing the consensus forecast of only 15,000.