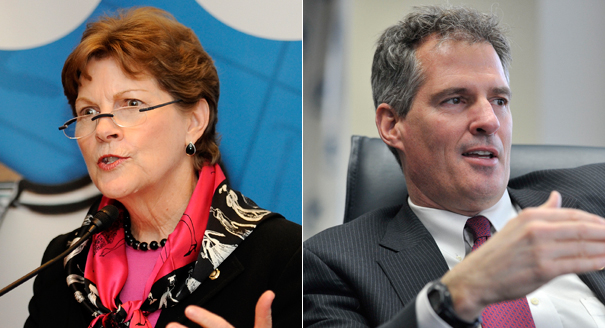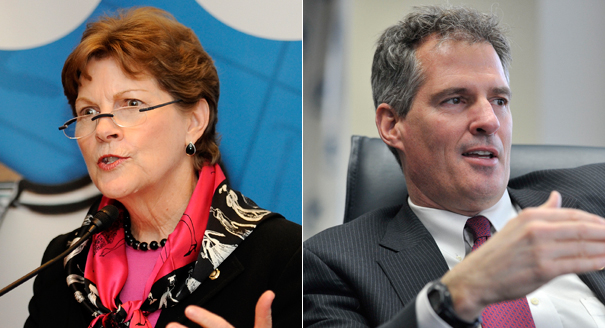 The New Hampshire Senate race is the fourteenth article in a succession of articles offering expanded analysis on the ratings for the PeoplesPunditDaily.com 2014 Senate Map. Thus far, I have released expanded analysis for the following Senate races:
Alaska, Arkansas, Iowa, Kentucky, Louisiana, Michigan, Montana, North Carolina, Mississippi, West Virginia and Virginia, with Colorado and Oklahoma, recently released earlier in January.
Former Senator Scott Brown's (R-MA) has now formed an exploratory committee in a real sign he is running against Democratic Senator Jeanne Shaheen. Early in the cycle, it looked as if the chances of Brown running were better for Massachusetts governor. However, with the NRSC pleading for him to run and his chances of winning increasing with every cancelled health insurance policy, this is a serious problem for Senator Shaheen.
In a recent opt-ed on FoxNews.com, Brown singled-out New Hampshire in a scathing attack on Democrats over ObamaCare. Obviously, this shows he is far more serious about a run than some expected. We will return to Scott Brown in a bit after we move through the rest of the race's dynamics.
The entrance of former Senator Bob Smith added a big name to the Republican field, but he had earlier stated that he would not run. In such antiestablishment environment, such as it will surely be in the 2014 environment, his " I won't run, but now I am running" reversal won't play well with notoriously independent New Hampshire voters.
As previously reported by People's Pundit Daily, Bob Smith has some serious challenges to contend with among those in his own party. Many feel he is both a turncoat and an opportunist, after he actually moved to win a seat that he thought would be more favorable to him in another state.
Shaheen seemed to be cruising to reelection before the failed ObamaCare rollout and her and Obama's broken health care reform promises. However, now she is heading up an effort in the Senate to delay the individual mandate. But it appears that the voters of New Hampshire know she fell in line like a good soldier and opposed the delay during the government shutdown, simply because she was told to do so by Harry Reid and President Obama.
The Granite State is another state – like Minnesota – where Republicans really should be in better shape than they are. At this point, other conservative alternatives have not had the money to make the splash needed for a real run. So, that leaves the man who everyone wants to get in to the race.
New Hampshire, particularly, is a fascinating state to study in political science. It is a predominately white state that voted for Ronald Reagan (2x), Bill Clinton, but then for George W. Bush in 2000 and John Kerry (2004) and Obama (2x).
Yet, when we plug in the historical numbers, it is also one of the states most closely aligned with presidential job approval as it relates to their vote for the Senate. According to our model, which obviously factors in this historical pattern, Shaheen could win no more than 48 percent of the vote today versus a strong candidate such as Scott Brown.
Thus far, Obama's job approval has not been able to climb up to 45 percent, which is above where it stood in 2010 when Republicans made big gains in the state. The Partisan Voting Index, which is backed up by the Gallup party ID by state survey, shows an even-more pronounced rightward-shift in the New Hampshire electorate.
For now, however, we will keep it where it was — Leans Democrat — and watch it very, very closely.
Ending Spending, a conservative outside group, has put out ads attacking Sen. Jeanne Shaheen over her support for the health care law, using Obama's words against her. "If you like your senator, you can keep her," the narrator intones. "If not, you know what to do."
Ouch.
There will be thousands of ads just like that one before the election cycle is over. Nevertheless, until we see Scott Brown, or another well-funded alternative that has the resources to offer a viable challenge to Shaheen, we are rating the New Hampshire Senate race "Leans Democrat" on PeoplesPunditDaily.com.
However, if Scott Brown announces that he will seek the Republican nomination for her seat, then we likely need to prepare to move this race to "Toss-Up" as the campaign gets heated. The polling has moved back toward Shaheen, for now, but we will leave off on a note by Purple Strategies, who conducted a survey of the New Hampshire Senate race:
Additional trouble for the sitting Senator is apparent in the vote across party lines. Independents currently support Brown by 9 points (48% to 39%). Shaheen has consolidated Democrats (87% to 6%), yet Brown still has room to grow among Republicans (holding just 76% of the vote). If Brown can capture his potential base, Shaheen will need to reverse the trend among independents or will trail. This race is clearly competitive in 2014. 
View Polling Below Or Return To PPD 2014 Senate Map
| Poll | Date | Sample | Shaheen (D) | Brown (R) | Spread |
| --- | --- | --- | --- | --- | --- |
| PPD Average | 1/9 – 3/16 | — | 47.8 | 40.2 | Shaheen +7.6 |
| ARG | 3/13 – 3/16 | 533 RV | 50 | 38 | Shaheen +12 |
| Suffolk/Boston Herald | 2/27 – 3/5 | 800 LV | 52 | 39 | Shaheen +13 |
| WMUR/UNH | 1/21 – 1/26 | 454 LV | 47 | 37 | Shaheen +10 |
| Purple Strategies | 1/21 – 1/23 | 1052 LV | 44 | 44 | Tie |
| PPP (D) | 1/9 – 1/12 | 1354 RV | 46 | 43 | Shaheen +3 |