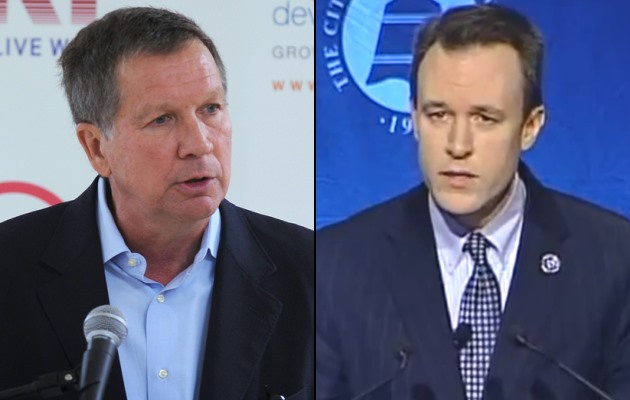 In our last look at the the Ohio Governor race, incumbent Gov. John Kasich was the "Likely" favorite to win reelection, but the data now show he is the "Safe" favorite come November. Kasich will face Cuyahoga County (Cleveland) Executive Ed FitzGerald, but according to new polling Kasich has now begun to break away from FitzGerald, hitting the crucial 50 percent threshold.
The PPD election projection model weighs several variables, i.e. polling, demographics and Partisan Voting Index, candidate recruitment and strength, campaign organization and fundraising, presidential approval ratings among other proven predictive measurements. If you want to read more about the model used at People's Pundit Daily, then visit the map, but let's begin with the polling conducted on the Ohio Governor race.
A year ago, this looked like it was going to be a close race, something similar to what we saw in 2010. Kasich was favored then, as well, but now to the extend we viewed him to be "safe" in November. Kasich defeated then-incumbent Gov. Ted Strickland 49.04 – 47.04 percent, just over 77,000 votes. However, it wasn't until 4 months before the election in June that it became clear Kasich had built a lead over Strickland. The two candidates had largely been within the MoE.
That isn't the case this time around.
FitzGerald has led in just one poll, which was conducted by the Democratic pollster PPP, a notoriously inaccurate pollster, and that was back in August of last year. Our model weights pollsters based upon past accuracy, and Public Policy Polling is rated a 4.25 out of 5, with 1 being stellar and 5 being widely inaccurate (to keep it simple). The latest poll from Quinnipiac University, a firm that has an overall rating of 2.25, and also came within 1.7 points of the actual 2010 vote result, found Kasich leading 50 – 35 percent. The trend — viewable below — is fairly clear, but inside the numbers is even greater cause for concern within the FitzGerald camp.
TREND: If the election for Governor were being held today, and the candidates were Ed FitzGerald the Democrat and John Kasich the Republican, for whom would you vote?
                     May 14  Feb 19  Nov 26  Jun 25  Apr 18  Feb 28
                     2014    2014    2013    2013    2013    2013
 
FitzGerald           35      38      37      33      37      35
Kasich               50      43      44      47      46      45
SMONE ELSE(VOL)       1       1       2       1       1       1
WLDN'T VOTE(VOL)      2       2       4       4       2       2
DK/NA                11      16      15      15      15      17
"Ohio Gov. John Kasich has opened up a 15-point lead in his re-election race as voters give him sterling grades for his job performance, especially on the economy," said Peter A. Brown, assistant director of the Quinnipiac University Poll. "He gets plus-50 percent approval ratings from voters on his handling of the economy and the state budget. These numbers are crucial because the economy and jobs are the most important issues in the minds of voters."
Brown nailed it. In governor races, "All politics really is local," as people's votes tend to reflect less on nationwide condition and more on personal situation. Under Kasich, they simply like the direction their state and their own lives are going, and they like their governor for it.
Voters in Ohio say by a 67 – 23 percent margin that he has strong leadership qualities; 54 – 31 percent say he is honest and trustworthy; 53 – 39 percent say he cares about their needs and problems, while 57 – 30 that he has good judgment.
"Voters think Gov. Kasich deserves another term and two-thirds consider him a strong leader. A small majority says he cares about their needs, a measure on which Republicans, even successful ones, often don't do that well. And perhaps most important for Kasich's re-election, 60 percent of voters are satisfied with the way things are going in the state," Brown correctly added. Even if FitzGerald was more popular or even a more familiar name, those are tough numbers to contend with.
The polling is actually beginning to reflect what we have argued all along regarding the fundamentals of the Ohio Governor race. Ohio, by several measurements, has been moving slightly farther to the right in the political spectrum. According to the annual Gallup party ID-by-state metric, Republicans have erased nearly all of the Democrats' identification advantage in the state since 2012, and Ohio was already a competitive battleground, as evident by the 2010 and 2012 outcomes.
Similarly, the Partisan Voting Index (PVI), was R+1 in 2010 and is now again R+1 in 2014. In 2010, Republican candidates running in states with a PVI of D+2 or more Republican, had a success rate of roughly 83 percent. While Partisan Voting Index provides us with a comparable electorate to estimate probabilities in overall election outcomes, it is only to be taken in concert with the other variables.
Kasich has always had the edge in candidate strength, as well as campaign fundraising and organization. Since July, 2013, when Kasich had the advantage of a $2.6 million war chest to just $600,000 for FitzGerald, the governor has consistently out-raised his Democratic opponent. Campaign finance reports back in Feb. showed Kasich raised nearly $3.9 million, receiving in-kind donations totaling more than $629,000. However, FitzGerald raised a little more than $1.6 million, but much of it came from his party.
What does any of this tell us about the status of the race?
For starters, Democrats aren't excited about their candidate, nor do donors believe their resources are wisely spent backing their guy against a strong incumbent. I have had several conversations with Democratic Party operatives who say they have all but abandoned FitzGerald, opting instead to defeat Sec. of State John Husted. The move is more geared toward the 2016 election than it is November, 2014. Husted has vigorously pursued anti-voter fraud measures, and he has become a to target because of it.
Nevertheless, as far as the guberbnatorial contest in the state of Ohio, we are now rating the race "Safe Republican" on our 2014 Governor Map Predictions. While we believe it will be closer than the polling indicates at this early stage, the force is strong with Gov. Kasich.
| Poll | Date | Sample | Kasich (R) | FitzGerald (D) | Spread |
| --- | --- | --- | --- | --- | --- |
| PPD Average | 4/14 – 5/12 | — | 47.0 | 37.5 | Kasich +10.5 |
| Quinnipiac | 5/7 – 5/12 | 1174 RV | 50 | 35 | Kasich +15 |
| Rasmussen Reports | 5/7 – 5/8 | 750 LV | 45 | 38 | Kasich +7 |
| SurveyUSA* | 4/24 – 4/28 | 618 LV | 46 | 36 | Kasich +10 |
| Magellan Strategies (R) | 4/14 – 4/15 | 857 LV | 47 | 41 | Kasich +6 |
| Quinnipiac | 2/12 – 2/17 | 1370 RV | 43 | 38 | Kasich +5 |
| Quinnipiac | 11/19 – 11/24 | 1361 RV | 44 | 37 | Kasich +7 |
| PPP (D) | 8/16 – 8/19 | 551 RV | 35 | 38 | FitzGerald +3 |
| Quinnipiac | 6/18 – 6/23 | 941 RV | 47 | 33 | Kasich +14 |
| Quinnipiac | 4/10 – 4/15 | 1138 RV | 46 | 37 | Kasich +9 |
| Quinnipiac | 2/21 – 2/26 | 1011 RV | 45 | 35 | Kasich +10 |