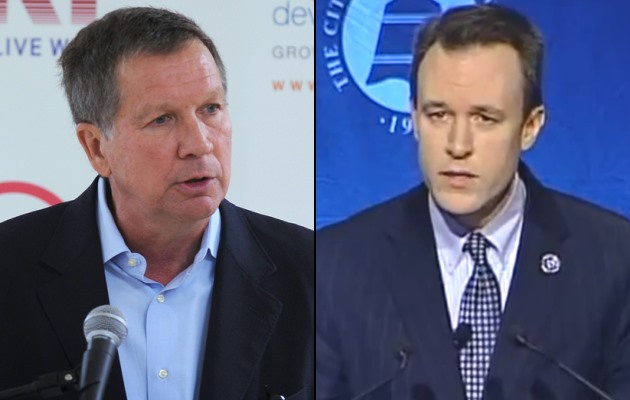 Ohio Governor John Kasich was always favored to retain the governor's mansion in November, but now that Cuyahoga County Executive Ed FitzGerald has imploded, he is a safe bet. It doesn't take a political prognosticator to make this call, but let's go over it.
FitzGerald was a poor candidate from the beginning, despite Democratic excitement that was mostly confined to the Cleveland and greater Cuyahoga area. Now, following reports he was caught in a parking lot at 4:00 A.M. with a woman who was not his wife — without a driver's license — he has completely thrown in the towel.
His campaign — well, what is left of it — confirmed Tuesday that they will be shifting their resources in a hail mary attempt to save Democrats from getting trounced down-ballot. Meanwhile, campaign staffers have been jumping ship since the story broke and, we suspect, soon it will resemble little more than a skeleton operation.
But, again, Kasich had and has a good economic story to tell in Ohio that gave him the edge all along, something he will no doubt tout if he decides to run for president. Still, there is no question that the story of an economic turnaround has much to do with his own political turnaround. It wasn't too long ago that Ohio voters rejected his attempt to get collective bargaining under control or when his approval rating was stuck in the dirty thirties.
Make no mistake about it: This cycle will impact 2016. Secretary of State candidate and state Sen. Nina Turner (D) is running a campaign intended to reverse the efforts of current Ohio Secretary of State Jon Husted, who has been on a crusade to end voter fraud in Cuyahoga County, as well as other Democratic strongholds.
Under the direction of Husted, election officials discovered and purged more than 257,000 dead people who were still listed as active voters, which is significant considering the 2 percent margin of victory Obama held over Romney represented just 166,214 votes out of a total of approximately 5.5 million ballots cast. I am certain that many pundits will have a problem with me citing that figure, but reality is reality.
That being said, even if Democrats get clobbered in 2014 up and down the ballot, which is looking more and more likely, Republicans shouldn't get too overconfident. Two years are a lifetime in politics, and a lifetime is plenty of time to get the Ohio State Democratic Party back to formidable strength.
However, for now, it's not. Compounding the party's problem is the very real, very pronounced rightward shift in Ohio's political environment and party identification since 2008.
The Ohio Governor race is now rated "Safe Republican" on PPD's 2014 Governors Map Predictions model.