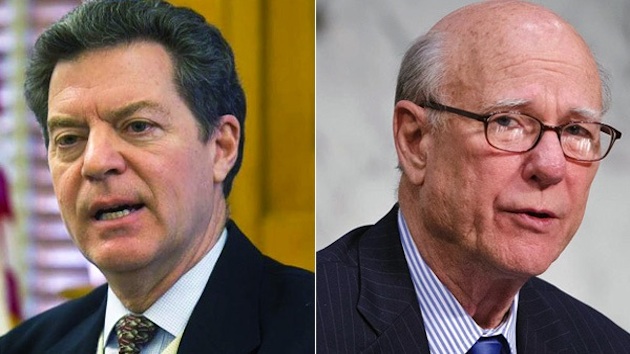 Chad Taylor, the Democratic nominee for U.S. Senate in Kansas, asked Wednesday that his name be removed from the ballot, leaving independent Greg Orman to face incumbent Republican Sen. Pat Roberts one-on-one in November. The national party was already forced to rush to the rescue of incumbent Governor Sam Brownback, but having to sink money into two races that both candidates should easily win, is a dramatic turn of events.
With control of the U.S. Senate on the line, Washington Republicans knew full-well they could not afford to defend a seat in a deeply conservative state. Kansas has not elected a Democratic senator since President Franklin Delano Roosevelt first won the presidency, yet here we are changing the status of this race from "Safe Republican" to "Leans Republican" just two months before Election Day. Rarely, if ever, do we make such a dramatic adjustment and, for over a month, PPD's model had resisted a rating change based on the state's solid Republican leanings.
So, how did we get here? Let's take a look at it because, as the title of the article suggests, both the Establishment and Tea Party wings of the party have only themselves to blame. Arguing who is a RINO or who is too extreme, as it turns out, hasn't proven very productive, electorally speaking.
Sen. Roberts won by a less-than impressive seven-point margin against physician Milton Wolfe. He had the second-worst showing out of any incumbent GOP senator this primary cycle and, roughly half of his own party voted against him. As I previously examined, the Tea Party failed to unseat Roberts not only because the vote split between Wolfe and two other challengers, but because they have been unable to coalesce behind a single candidate. It is inherently fatal to the art of political messaging to present so many alternatives to the target you are attempting to draw a contrast with.
It muddles the movement's message, which in politics, must be honed and delivered to voters with precision and coherence. The Tea Party and insurgent challengers have not a single candidate to show for the millions upon millions of dollars spent this cycle attempting to defeat incumbent Republicans, an enormous sum of money desperately needed now to defend a once-safe Republican seat.
The bottom line is that the Republican Party now finds itself in a self-created disaster, a product of each wing of the party always threatening to take their ball and go home if their guy doesn't win the nomination. The Establishment, and their voters, flat-out threaten to side with so-called moderate Democrats in the event a Tea Party victor is chosen. But sometimes they just side with them, regardless.
On Wednesday, Orman was endorsed by Traditional Republicans for Common Sense, a group of former lawmakers that includes many of the moderates that endorsed Democrat Paul Davis over Gov. Sam Brownback in July.
"Our members know leadership, because they've been leadership," said chairman and former state representative Jim Yonally. "Our members have been there. They've been on the front line. They've had to make the tough decisions."
Absolutely laughable. In fact, I can hear Democratic readers laughing right now. And you should be.
A spokesman for the NRSC declined to comment for this article, but sources conveyed a deep sense of frustration with Sen. Roberts following the primary. Now, he is taking flack from both his Establishment and Tea Party flanks. That's just not a safe position to be in for an incumbent Republican senator these days.
The GOP will try to attach a "D" next to Orman's name as often as possible and, in reality, he is truly a Democrat. He was contemplating a run back in 2008 against Roberts — as a Democrat — but ultimately decided against it. Still, it will be difficult to do. The question now remains whether the Tea Party cringes at the prospect of another upper chamber controlled by Harry Reid more than one controlled by Republicans they deem insufficiently conservative.
Let's move on to incumbent Gov. Sam Brownback, who was once positioned to cruise to reelection. Brownback signed legislation preventing federal agents from regulating firearms and ammunition manufactured and stored within Kansas state lines, which prompted U.S. Attorney General Eric Holder to threatened to sue the state over the law. It was a win-win for Brownback politically.
Yet, since then, the press has turned sour on Brownback, and he had begun trailing in some polls against Democrat Paul Davis as early as last year. It wasn't until the beginning of the summer that the national party came to grips with the fact they were going to have to sink a significant amount of money into his race and, despite PPD's warning and downgrade to "Leans Republican" earlier this year. They underestimated Davis and the Democrats, period. Sure, Kansas has moved farther to the right, and would certainly never elect Kathleen Sebelius if she was on the ballot today. But in gubernatorial campaigns, "All politics is local."
Nevertheless, the state remains overwhelmingly Republican and, thus, both Roberts and Brownback remain slight favorites. The Partisan Voting Index ticked up from R+11 in 2010 to R+12 in 2014. On Gallup's scorecard, which the PPD model pulls several key metrics from, Republicans have a 13-point party ID advantage. Obama's approval sits at 32 percent, trust in state government is high, minority animosity is low, religiosity is high and conservatism is just as prevalent. The variable currently hammering the GOP as of now also happens to be one of the most influential analyzed by the model — candidate strength.
A significant percentage of voters in Kansas are self-described moderates, who along with a Libertarian Party candidate drawing a disproportionate number of voters away from either or both Republicans, could very well give Democrats a slim victory on Election Day.