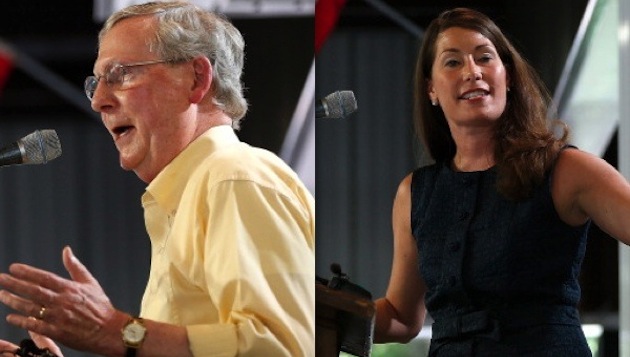 The idea that the Kentucky Senate race was going to be truly competitive this cycle has produced some great headlines, but it was never grounded in reality. Admittedly, the possibility that the man likely to be the next majority leader of the U.S. Senate would have that long-sought position snatched from his grip just as it became within reach, is a great story. But it was always just that — a story.
Democrats had hoped to go on offensive in Kentucky and Georgia, both red state Senate seats currently held by Republicans. In Kentucky, McConnell's approval rating is in the high 30s to low 40s and he has hovered below the 50-percent threshold in the majority of polls conducted throughout the cycle.
However, putting aside the speculation and simply observing the data, it is clear that both of these states are fools gold for Democrats and have been this entire cycle. From the beginning of the cycle and consistently, PPD's 2014 Senate Map Predictions model has been more bullish on McConnell, while other pundits have been prognosticating in fantasy land.
Now, there is no excuse for the media delay in covering the political reality of this race.
Let's take a look at some of the more important, fundamental factors in the Kentucky Senate race, absent the wishful speculation heard elsewhere. We will begin with polling, then move into demographic data and other nerdy variables.
First, McConnell's right flank is predictably coming home. Much has been made of McConnell's low approval ratings and the apparent tightness of the race, according to at least a few polls. Yet, as we've previously examined, after McConnell defeated primary challenger Matt Bevin his lead over Grimes widened and has remained consistent. In fact, in the aggregate of polling viewable below, we see Grimes has not led in a single poll since May, which was overly optimistic of her level of support.
In the average of aggregate polling, Grimes now sits at 42 percent, which is not much less than what we believe to be her ceiling of support. Let's take a look at the state's political environment in depth to justify that claim.
President Obama's approval rating in the state is at 29 percent, which believe it or not, is a significant deterioration since Mitt Romney beat him by 23 points in 2012. According to Gallup's state scorecard, Republicans hold a 6-point edge in party ID (a misleading measurement we will discuss shortly), conservative voters represent 41 percent of the overall electorate and 49 percent are "very religious."
The only thing "blue" about the Bluegrass State is its nickname. The Partisan Voting Index is now R+14, up from R+10 in 2010 when now-Sen. Rand Paul significantly outperformed expectations in the 5th Congressional District.
And here is the crux of the problem for Alison Lundergan Grimes. Traditional Democratic voters in Kentucky have been steadily trending Republican on the national level.
The 5th Congressional District, a once-competitive region of the state due in large part to the heavily unionized and historically Democratic coal mining constituency, is naturally bailing on the national Democratic Party. In fact, since the era of Obama began in 2008, the 5th District has been bleeding once-loyal Democratic voters. The "War on Coal" may be a sound bite for most media outlets, but it's real life for Kentucky coal miners.
Worth noting, Grimes isn't simply underperforming in the region because of the anti-Obama sentiment, she shoulders a good deal of the blame.
Amid the Obama administration unilaterally issuing new regulations on existing coal-fired power plants that will undoubtedly cripple the economy in Kentucky's 5th Congressional District, Grimes was caught lying about the topic of a fundraiser she attended with Majority Leader Harry Reid (D-NV). While the campaign claimed she would use the high-dollar fundraiser to fight for the Kentucky coal industry, a leaked audio tape reenforced suspicions that Grimes would largely support (or abstain from fighting) the anti-coal agenda pushed by leadership in her party.
The NRSC, the National Republican Senatorial Committee, pounced on Grimes hard.
"Alison Grimes already has a credibility problem with Kentuckians," the NRSC said in an email to PPD. "This leaves little doubt that Grimes will say whatever it takes back home but do little to stop Obama's anti-coal agenda in DC."
This was the beginning of the narrative Republicans had hoped to solidify, which deeply implanted a sentiment within the electorate that Grimes will say whatever she needs to say to the voters in Kentucky, while acting and speaking very differently in Washington. D.C.
"Alison Lundergan Grimes just did exactly what every Kentuckian knew she would — tell them one thing and do another with Harry Reid," Allison Moore, McConnell's campaign spokeswoman said in a statement. "If there was any question about what she would do as a senator, this tape erased all doubt."
Alison Lundergan Grimes has not lived up to the hype the media and Democrats purported she would. Perhaps she was expected to live up to impossible standards.
Sure, McConnell isn't winning any popularity contests anytime soon. However, much of his negative favorability ratings derived from his right flank and, when push comes to shove, a Majority Leader Harry Reid is still far less popular than a Majority Leader Mitch McConnell.
The Kentucky Senate race is rated "Likely Republican" on PPD's 2014 Senate Map Predictions model, with the minority leader enjoying an 84 percent chance of victory.