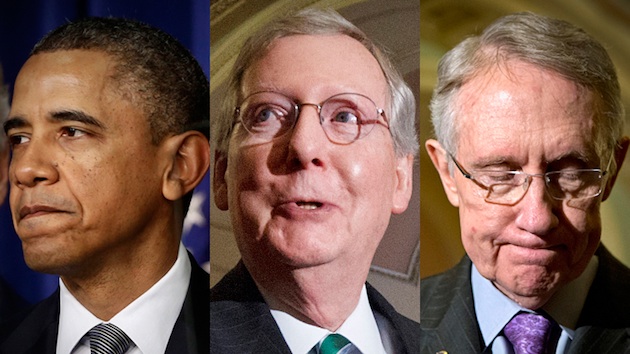 It should come as no surprise that our final Senate predictions conclude the Republicans will take control of the U.S. Senate in 2015. In fact, we've known this for quite some time, despite the fantastical headlines. The real question has alway been whether the Republicans would have a good night, or a great night.
But before we get into our final Senate predictions, there are three things we think are worth mentioning.
First, we will inevitably get one of these races wrong, or perhaps even a race that's not even on the top 10 list, i.e. Ed Gillespie pulling an upset over Sen. Mark Warner (D) in Virginia. We do our best to offer a hybrid model of others you likely read, hoping to never let the abundance of data overcome good old fashion gut feelings, but also not allowing gut feelings to obfuscate reality. In the end, this is a lot of fun for us, because we are political junkies. But there is another reason we do this, as well, which we will talk about in a minute.
Second, it is remarkable that the map and ratings have changed so little since the release of PPD's 2014 Senate Map Predictions model in December, 2013. Our ratings haven't wildly gyrated back-and-forth as we've seen with others. As we've repeatedly stated, PPD's model is a "big picture" model that weighs more heavily for the variables that actually matter, rather than making constant knee-jerk reactions to this poll or that poll. Over the months, we have tried to point out how and when other election projection models were doing just that, when we took notice.
The second point piggy-backs off of the previous point, which is that these other models, most of which are held up as the Gold Standard in election projection, have badly trailed PPD's assessment of the overall political landscape and state of individual races.
Why are we taking time to mention this? It's not to brag, but rather for the same reason we started PPD's election projection model: To let you know these people are full of it, plain and simple. The decades of election data tell us there are several factors that decide the outcomes of U.S. elections, and they have always favored a Republican-controlled Senate.
Let's take a look.
[tabs title="Final 2014 Senate Predictions"] [tab title="AK"]
The Alaska Senate race has been in the Republican corner all year, but it broke for Republican Dan Sullivan after incumbent Democrat Sen. Mark Begich crossed the line running a TV ad that highlighted the case involving 25-year-old Jerry Active, who is currently charged with murdering two grandparents and sexually assaulting their two-year-old granddaughter.
The campaign ad blamed then-Attorney General Dan Sullivan for what the state even admitted was not his mistake that resulted in Active getting early release. The victim's family asked Begich to pull the ad, but he refused to do so for several days, opting instead to run an equally offensive edited version.
Though we have stressed the fundamentals in this race and cautioned about trusting surveys in notoriously hard-to-poll states such as The Last Frontier, even the polling data from pollsters who grossly under-predicted Sullivan's primary support are reflecting the ever-present reality of Alaska's political leanings (it's the 6th most conservative state in the union). Begich has only led in one survey since August, which is from a terribly bias liberal Ivan Moore, who also had Begich beating Sen. Ted Stevens in 2008 by 20-plus points.
Of course, Begich boasts defeating scandal-laden Sen. Stevens in 2008 — a Democratic wave election no less — by under just 4,000 votes. We, since Dec. of last year, have always contended the fundamentals would likely catch up to him. In a deeply red state with a PVI of R+12, which Mitt Romney easily won by 13 points, there is now a 76 percent chance of Sullivan defeating Begich on Tuesday, which is more than enough to teeter the contest Likely Republican.
Alaska Senate Polls – Sullivan (R) Vs. Begich (D)
(Please note: Our model uses separately calculated averages from weighted polls based on PPD's Pollster Scorecard. Above is the raw spread and average.)[/tab]
[tab title="AR"]
Republican Rep. Tom Cotton is now heavily favored to defeat incumbent Democratic Sen. Mark Pryor in the Arkansas Senate race this November, resulting in a much-needed net gain for the GOP. Recent data have increased Cotton's chances of victory to 84 percent, up from 70 percent when we last visited the race. That puts this race in a strong Likely Republican rating and almost no chance that Pryor ends up holding on.
The PPD model has always been more bullish on Rep. Tom Cotton in the Arkansas Senate race juxtaposed to other models, particularly the well-respected guys at Crystal Ball. We even previously disputed a decision they made to move the race to "Leans Democrat" some months back based on one PPP Poll — a bias, poor-quality Democratic robo pollster — before again moving it all the way to back to "Leans Republican," where it stood until just last week. This race was never really a toss-up, which we argued in great detail some months back. In our most recent analysis, we go through the candidates performance in each congressional to illustrate Pryor's near-impossible task.
Arkansas Senate Polls – Cotton (R) Vs. Pryor (D)
(Please note: Our model uses separately calculated averages from weighted polls based on PPD's Pollster Scorecard. Above is the raw spread and average.)[/tab]
[tab title="CO"]
The Colorado Senate race, along with Iowa, had been on PPD's election projection radar months before any of the other prognosticators even began paying attention. The dynamic of this race has changed dramatically since the National Journal released a May article entitled, "Colorado's Forgotten Senate Race."
Since the disastrous rollout of ObamaCare, Colorado voters have consistently reported low approval ratings for incumbent Sen. Mark Udall, as well as President Obama. They've repeatedly said he doesn't deserve reelection, and voter registration trends are very concerning to Democrats (See State Data tab for registration totals).
As we've previously explained, the entrance of Cory Gardner to the race was a game-changer, because he closed the ever-important talent gap, which sent this race into competitive territory when it significantly increased the Republican score on candidate strength.
Republicans have a big lead in early voting and a built-in advantage with voter registration numbers and voting trends. Republican voters in the state are more loyal than Democrats, but President Obama was able to defeat Mitt Romney because he won independents handily. Unfortunately, for Udall, he's losing independents beyond repair in PPD tracking and in the average of polls. He now would need to win 66 percent of them in order to close Gardner's lead. We have been cautious due to the state's past understatement of Democratic support, but the data are in.
Gardner is now a 76 percent favorite, which is barely enough to put this race into the Likely Republican corner for the first time this cycle.
Colorado Senate Polls – Gardner (R) Vs. Udall (D)
(Please note: Our model uses separately calculated averages from weighted polls based on PPD's Pollster Scorecard. Above is the raw spread and average.)[/tab]
[tab title="GA"]
With Alaska, Arkansas, and Colorado moving into Republican control, the GOP must hold all of their current seats if they hope to overcome the Democratic firewall. In Georgia, Democrats have long-contended their candidate is strong enough to break the GOP stranglehold on the Peach State.
After a few hiccups, Republican businessman David Perdue has surged against Democrat Michelle Nunn in the final two weeks of the campaign. We recently analyzed the Georgia Senate race in more detail, which we would encourage readers to take a look at. The conventional wisdom holds this race is going to a runoff, which our argument casts significant doubt on. However, even if the race does go to a runoff in January, the history and data paint a grim picture for Nunn's chances.
Let's recap some of the major variables in the race, particularly regarding the polls.
PPD's tracking poll currently shows Perdue leading Nunn 49 – 45 percent, which is a reversal from two weeks ago when Nunn led 46 – 45 percent. But Nunn was never close to hitting 50 percent, as we've seen Perdue pull a number of times in the cycle.
Primary polling dramatically underestimated Perdue's actual performance both in the initial primary round and the runoff. Kingston was ahead of Perdue going into the runoff, yet ultimately lost. While everyone else was writing Perdue's political obituary — because, look it up, the polls and pundits favored Kingston — we warned that pollsters were underestimating Perdue's support in the Metro Atlanta suburbs and rural counties.
They did. Going into Election Day with a 6-point deficit on the RCP politics average, Perdue topped Kingston 50.9 – 49.1 percent. I wouldn't at all find it surprising if Perdue hits the mark Tuesday, and there is some recent evidence to suggest our voter-file tracking poll may be underestimating his overall dominance among white voters, which could put him over the top on round one.
Again, Perdue is expected to dominate in the rural regions, but Nunn's (and Carter's) support among voters making $80,000 a year or more in the Metro Atlanta suburbs has completely collapsed. The is exactly what we saw happen to Kingston in the final days of the runoff — and, is corroborated by high-rated pollsters at SurveyUSA and Monmouth University — which suggests Perdue has a good chance to upset Nunn on Election Day outright.
We've heard much about Nunn's ground game, which has been used as justification for pollsters' findings and pundits' ratings. But while Republicans have 17 major outreach offices across Georgia, Democrats have just seven. Facilities like the Cobb County GOP headquarters are under long-term leases, while Democrats just appeared on the scene and are mostly renting short-term.
This is the real ground game environment throughout the state.
Looking at the early voting data, Perdue is performing as the fundamentals and related data would suggest. Perdue leads Nunn among those who already voted by 10 points — 52 – 42 percent. Even though Democrats are going a pretty great job getting out the black vote in Georgia, as well, it simply isn't enough to improve their numbers from 2010. In 2012, black voters' early vote share was greater than it is now and in 2008, yet Mitt Romney trounced President Obama by a larger margin than McCain did in 2008 (Read Also: Early Voting Reality: Black Voters Alone Won't Save Senate Democrats Tuesday).
Further, as we've also previously examined, black voters in Georgia are consistently more conservative than they are as a whole nationwide. George W. Bush won 19 percent of the black vote in 2004, Gov. Nathan Deal won roughly 20 percent in 2010, Mitt Romney won a similar percentage, and Perdue is currently averaging roughly 14 percent of the black vote now. Twice as many Democrats have crossed-over and voted for Perdue as Republicans who crossed-over and voted for Nunn.
Perdue remains the favorite in the Georgia Senate race despite the hype, with the GOP enjoying a 69 percent chance they will pick a seat that clearly still Leans Republican, at least.
Georgia Senate Polls – Perdue (R) Vs. Nunn (D)
(Please note: Our model uses separately calculated averages from weighted polls based on PPD's Pollster Scorecard. Above is the raw spread and average.)[/tab]
[tab title="IA"]
If Joni Ernst, who now leads Braley 51 – 44 percent in the final Des Moines Register Poll, beats Democratic Rep. Bruce Braley on Tuesday, then Iowa will send its first women senator to the U.S. Senate in history, leaving Mississippi as the only state left to hold that less-than flattering label.
Majority Leader Harry Reid said Saturday on a conference call with progressive groups in Iowa that the state would decide the balance of power in the Senate, urging Iowa Democrats "to double down and save the Senate."
"If we win Iowa, we're going to do just fine," Reid said. "Iowa is critical, there's no other way to say it."
Reid is most assuredly correct, but his comments give us some insight into where he believes other races that appear close, such as North Carolina and New Hampshire, currently stand.
Braley's missteps have done much to shape the state of this race. He was caught on video belittling Iowa farmers by attacking Iowa's favorite senator, Republican Sen. Chuck Grassley. Then, in an attempt to answer a voter's question on the comment, he falsely claimed to be a farmer, which again, was caught on video.
Braley had also missed the majority of his Veterans Affairs Committee hearings, which the poll shows hurt him almost as much as the comment about Grassley.
In every election projection model — save for ours at PPD — Braley was considered the favorite in the race that has clearly slipped away from Democrats. PPD early and repeatedly argued that Iowans favored a Republican-controlled Senate, agreed with the GOP on the issues, and had a severe case of voters' remorse with President Obama.
Save for Josh Kraushaar at the National Journal, only PPD did not give Braley a clear edge because they foolishly bought into the Beltway buzz, which held he was a stronger candidate and blatantly ignored the preferences of Iowans. Nate Silver at FiveThirtyEight may now be pretending he favored Ernst all along, but he repeatedly suggested she was a second-tier candidate.
"Our model will view the fundamentals of the race as slightly favoring Braley," Silver wrote as recent as August. "The candidate-quality measures it evaluates all come out in his favor: He rates as being slightly closer to the center of the electorate than Ernst, he's been elected to a higher office, and he's raised considerably more money. Iowa is normally as purple as purple states get — the sort of state where candidate quality can make a difference."
The combination of her folksy, decisive, and down-to-earth characteristics made her a candidate others severely underestimated, including Braley.
PPD, too, calculates a "candidate strength" variable based on numerous factors, including ideology as Silver referred to, but we didn't arrive at the same conclusion. By March, even before Ernst locked the nomination, it became clear that the data suggested Braley's lead was soft, based solely upon name recognition and that the more Iowans seemed to get to know him the less they liked him. These are the makings of a weak candidate that sometimes even large money advantages cannot balance out.
That's the problem with solely relying upon data. It separates a political prognosticator from the human factor, disconnecting them from voter emotion and sentiment, which inevitably leaves them blind to movement in the electorate (you can read more in our last Iowa Senate race analysis).
Braley has led in just two of the last 18 polls conducted in the Iowa Senate race, but it's actually worse than it appears. Previous surveys that were exceptionally favorable to Braley now also show him trailing or tied, and the final Des Moines Register Poll, which is conducted by J. Ann Selzer, whose firm Selzer & Company has a habit of making other firms in Iowa look very stupid, is as solid as it gets.
Speaking of very stupid, outgoing Democratic Sen. Tom Harkin made some outrageous comments that pretty much claimed Ernst is winning because she is pretty. I wouldn't at all be surprised if that earns Ernst a few more votes from Iowan women who might otherwise be inclined to vote Democrat.
Joni Ernst is now a 76-percent favorite to make history by becoming Iowa's first female elected senator, moving the race from Leans Republican to Likely Republican.
Iowa Senate Polls – Ernst (R) Vs. Braley (D)
(Please note: Our model uses separately calculated averages from weighted polls based on PPD's Pollster Scorecard. Above is the raw spread and average.)[/tab]
[tab title="KS"]
Even if independent Greg Orman, who ran as a Democrat in 2008, ends up winning on Tuesday, the seat will still go to the Republican Party. Orman made a pact with the more moderate elements of the Kansas State Republican Party, which we heard about through a source. Yet, we still believe this is more unlikely to happen than it is likely.
Before we get into the state fundamentals, it is worth noting that Greg Orman has made a late-campaign stumble over the weekend. In an off-the-cuff comment, Orman referred to former GOP nominee Bob Dole, a former Kansas senator, himself, who is still beloved in the state, as a clown.
"It reminded me of a Washington establishment clown car," Orman said.
This may seem like a small hiccup, but it's not and the Orman campaign expressed to us that they know this was a screwup. Roberts quickly pounced on the opportunity, resulting in a slight pullback and apology from Orman, which appears now to not really have been too much of an apology. In such as close race, this could really matter and the polls would never pick it up.
That being said, the Republican Establishment really bungled the Kansas Senate race. With control of the U.S. Senate on the line, Washington Republicans knew full-well they could not afford to defend a seat in a deeply conservative state. Still, the polling in Kansas must be taken with a grain of salt. Aside from the state's dominant Republican nature, Roberts is down because he is losing voters from his center to Orman and shrinking the electorate by losing voters on his right. We remain very skeptical that Orman can win this race in the end, particularly with the recent, public Roberts endorsement from primary challenger Milton Wolfe.
Wolfe's biggest supporter, conservative talk radio host Mark Levin, and the Kansas tea party forces, are now rallying behind Roberts. This is a recent development that only occurred this weekend and Monday, which the polls certainly have not picked up on. And, of course, there's the state fundamentals.
Kansas has not elected a Democratic senator since President Franklin Delano Roosevelt first won the presidency. In the 98 years Kansan voters have been able to directly elect their senators, since the pass of the Seventeenth Amendment, a majority or plurality of voters have chosen a Democrat (or non-Republican) just three times, the last time in 1932. George McGill won a three-way race with 46 percent of the vote, but lost with 44 percent during his re-election bid just six years later. Republicans outnumber Democrats nearly 2 to 1 and, we know from the "Strongly Republican" PVI (Partisan Voting Index) that registered independents, who also outnumber Democrats, vote overwhelmingly Republican.
The bottom line is that the Republican Party now finds itself in a self-created disaster, a product of each wing of the party always threatening to take their ball and go home if their guy doesn't win the nomination. They will have to decide whether voting for the other Republican is as bad as allowing Democrats to keep control of the Upper Chamber.
On a final note, even if Roberts pulls it off in the end, which we believe he is still favored to do with a slight 51 percent chance of success, giving the Kansas Senate race a Toss-Up rating that we are forced to call Leans Republican due to time, he will have drained precious resources from national Republicans that were needed in other states such as North Carolina and New Hampshire.
Kansas Senate Polls – Roberts (R) Vs. Orman (I)
(Please note: Our model uses separately calculated averages from weighted polls based on PPD's Pollster Scorecard. Above is the raw spread and average.)[/tab]
[tab title="LA"]
Sen. Mary Landrieu was already losing the Louisiana Senate race before she made the assertion that she is losing because whites in the state are racist. Since then, she has doubled-down on a huge mistake.
Still, her chances at reelection have run against her all cycle and, after giving the incumbent the benefit of the doubt for months, in large part due to the nature of the jungle primary, we now view this race as a Likely Republican pickup, though we likely will have to wait until December to officially put this one in GOP hands.
Here's why.
First, Landrieu's support among white voters, something we have warned about all year, is now at levels that make it nearly impossible for her to put together a majority. And that's true for the jungle primary setting and the runoff, which we will discuss in a moment.
Her precipitous decline among white Democrats and female voters overall is particularly noteworthy. In May, her average overall support fell in the mid twenties with only 43 percent of white female Democrats saying they would back her in the fall, while 36 percent said they will vote for one of the Republican candidates. Now, just 22 – 25 percent of white voters support her reelection. Even if black voters make up a larger percent of the electorate than they did in 2012 — an unlikely outcome considering early voting numbers are currently running behind that year — she would still only end up somewhere in the low 40s, curiously where her average overall polling support stands now.
An analysis by Sean Trende at RCP backed up our argument recently, as well. "Had Landrieu won 25 percent of the white vote in 2008, rather than 33 percent, she'd have lost by four points or so, even with heightened black turnout," Trende wrote.
(Read Also: Early Voting Reality: Black Voters Alone Won't Save Senate Democrats Tuesday)
Second, the uncertainty of the jungle primary weighed heavily on our model, particularly with Landrieu posting big fundraising numbers and outspending Cassidy. Contrary to what you frequently hear from TV pundits, our research shows there is little evidence to suggest Landrieu would fare worse in a runoff election with Cassidy. But, considering Republicans are now favored to net at least the six seats needed for a majority, we believe this cycle may be different.
For instance, even if black voters turn out enough in November to keep her in the game, the likely best case scenario for Democrats would be to have control of the Senate decided in December's runoff. Republicans will be significantly more energized to ensure they net that final seat, leaving Landrieu and her 22-percent level of white support to get swamped by Cassidy on December 6.
Louisiana Senate Polls – Cassidy (R) Vs. Landrieu (D)
(Please note: Our model uses separately calculated averages from weighted polls based on PPD's Pollster Scorecard. Above is the raw spread and average.)[/tab]
[tab title="NH"]
The New Hampshire Senate truly is anyone's call. We have agonizingly outlined the state's notorious image as a bellwether and New Hampshire voters' keen ability to shock the so-called experts, including us. In the end, I will make this short, but sweet. Former Massachusetts Sen. Scott Brown absolutely has a path to beat Democratic incumbent Sen. Shaheen. But when it is this close, we are going with the incumbent. Our final rating is Leans Democrat.
New Hampshire Senate Polls – Brown (R) Vs. Shaheen (D)
Poll
Date
Sample
MoE
Shaheen (D)
Brown (R)
Raw Spread
PPD Spread
PPD Average
10/18 – 11/2
—
—
48.7
47.8

Shaheen +0.9

Tie 48 – 48

WMUR/UNH
10/29 – 11/2
757 LV
3.6
49
48

Shaheen +1

New England College
10/31 – 11/1
1526 LV
2.5
48
49

Brown +1

Rasmussen Reports
10/29 – 10/30
940 LV
3.0
52
45

Shaheen +7

ARG
10/27 – 10/29
600 LV
4.0
49
49
Tie
Vox Populi (R)
10/27 – 10/28
638 LV
3.9
45
49

Brown +4

WMUR/UNH
10/22 – 10/26
555 LV
4.2
50
42

Shaheen +8

New England College
10/24 – 10/24
1132 LV
2.9
47
48

Brown +1
(Please note: Our model uses separately calculated averages from weighted polls based on PPD's Pollster Scorecard. Above is the raw spread and average.)[/tab]
[tab title="NC"]
As with New Hampshire, we anguished over this rating for hours, pouring over data that, frankly, completely contradict each other. The major difference between the two races is a popular vs. unpopular incumbent, and though many others have claimed Sen. Kay Hagan had the edge, consider the following data.
No Democratic incumbent senator in modern American election history has ever won reelection with a polling average under 45 percent of the vote. Hagan is currently polling at 44.1 percent, on average without adjusting for pollster leanings using PPD's Pollster Scorecard.
In North Carolina, black voters made up roughly 2 percent less of the 2014 early vote electorate (25 percent) than they did in 2012 (27.4 percent). Of course, North Carolina was the only state that flipped and voted for Mitt Romney, despite increased black voter turnout. If we listen to the media pundits and their incessant regurgitation of the fact that Democratic ballots are outpacing Republican ballots 47.6 – 32.0, we might think Thom Tillis was doomed. But again, in 2012, Democrats were ahead 47.6 – 31.5 in early voting, yet went on to lose statewide. That spread was even worse for Republicans in 2010, but they were victorious in races across the state by double-digit margins.
(Read Also: Early Voting Reality: Black Voters Alone Won't Save Senate Democrats Tuesday)
My gut tells me that Tillis will pull this off, which may suggest a better-than-expected Republican night. But, as I've said before, my gut isn't enough and this is a group effort. The consensus at PPD is that Hagan will draw the number of white voters she needs. However, if we are wrong on any race tomorrow night, which is pretty much an inevitability, we strongly believe it will be final Leans Democrat rating we are assigning to the North Carolina Senate race.
P.S. We are reserving the right to change this rating overnight if the senior political analyst is losing sleep over it.
North Carolina Senate Polls – Tillis (R) Vs. Hagan (D)
Poll
Date
Sample
MoE
Hagan (D)
Tillis (R)
Haugh (L)
Raw Spread
PPD Spread
PPD Average
10/19 – 10/31
—
—
44.4
44.6
4.7

Tillis +.2

Tie 44.4 – 44.4

Harper (R)
10/28 – 10/30
1006 LV
4.3
44
46
6

Tillis +2

Gravis Marketing
10/29 – 10/30
1006 LV
3.0
46
47
4

Tillis +1

FOX News
10/28 – 10/30
909 LV
3.0
43
42
4

Hagan +1

CNN/Opinion Research
10/27 – 10/30
559 LV
4.0
48
46
4

Hagan +2

YouGov
10/25 – 10/31
1727 LV
3.0
44
41
2

Hagan +3

Vox Populi
10/29 – 10/30
615 LV
3.0
43
48
–

Tillis +5

High Point/SurveyUSA
10/21 – 10/25
802 LV
3.5
44
44
5
Tie
NBC News/Marist
10/19 – 10/23
756 LV
3.6
43
43
7
Tie
PPP (D)
10/16 – 10/18
780 LV
3.5
46
43
5

Hagan +3

Civitas (R)
10/15 – 10/18
600 RV
4.0
41
42
6

Tillis +1
(Please note: Our model uses separately calculated averages from weighted polls based on PPD's Pollster Scorecard. Above is the raw spread and average.)[/tab]
[tab title="Closing Statement"]
[show-map id='1′]
LEGEND: SAFE DEM | LIKELY DEM | LEANS DEM | TOSS-UP | LEANS GOP | LIKELY GOP | SAFE GOP
You might have noticed that Kentucky, Montana, South Dakota, and West Virginia are all missing from PPD's final Senate predictions. That's because these races were never competitive. They have been firmly in the GOP's corner all cycle. Even if Democrat John Walsh, for instance, wasn't caught plagiarizing his thesis, Rep. Steve Daines still would've won.
However, it is important to address the average generic ballot results this cycle. As predicted, the Republicans began opening up a lead after Labor Day, but someone has to be wrong on Tuesday. Let's take a quick look at it and offer an explanation.
[table id=3 /]
Notoriously liberal pollsters, including CBS News, NBC News, ABC/WaPo, etc. show a much larger 7 – 11-point GOP lead than say, Pew Research. One explanation for this may be the adjustments pollsters made after the 2012 election, which many off them badly called. Looking at the internals of each pollster, it is pretty clear that many are counting on a big ground game advantage on behalf of the Democrats, which will mute built-in GOP advantages. Whomever is correct will have profound implications in states such as New Hampshire and North Carolina.
We'll just have to see.
Regardless, if the GOP makes bigger gains than expected, it would behoove them not to take this as an affirmation of their party. Their failure to put together a consensus agenda and improve their image among the American people is largely to blame for why some of these races are as close as they are, because they shouldn't be.
As it stands now, Republicans are very likely to have at least a 52-seat majority when all the dust has cleared, but it is slightly more likely (2 percent) that they will have a 53-percent majority. When combined, Republicans have a 76 percent chance of taking control of the U.S. Senate.
[/tab][/tabs]